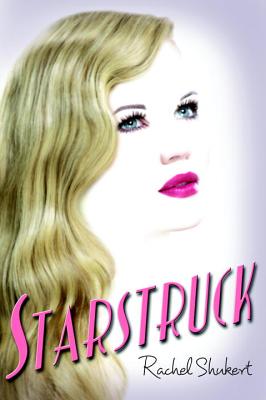 Starstruck
Hardcover

* Individual store prices may vary.
Other Editions of This Title:
Library Binding (3/12/2013)
Description
A new series set in the golden age of glam . . . 

"Wit, pluck, darkness, pitch perfect period details, juicy twists, and big heart. This book is one to savor."--Anna Godbersen, New York Times bestselling author of the Luxe and Bright Young Things series

Every week they arrive in Los Angeles--beautiful and talented young hopefuls who dream of becoming stars. It's all Margaret Frobisher has ever wanted—and when she's discovered by a powerful agent, she can barely believe her luck. She's more than ready to escape her snobby private school and conservative Pasadena family for a chance to light up the silver screen.

The competition is fierce at Olympus Studios and Margaret—now Margo—is chasing her Hollywood dreams alongside girls like Gabby Preston, who at 16 is already a grizzled show-biz veteran caught between the studio and the ravenous ambition of her ruthless mother, and sultry Amanda Farraday, who seems to have it all--ambition, glamour . . . and dirty secrets. Missing from the pack is Diana Chesterfield, the beautiful actress who mysteriously disappeared, and there are whispers that Diana's boyfriend—Margo's new co-star—may have had something to do with it. Margo quickly learns that fame comes with a price, and that nothing is what it seems.   

Set in Old Hollywood, Starstruck follows the lives of three teen girls as they live, love, and claw their way to the top in a world where being a star is all that matters.

"Valley of the Dolls for a new generation."—a TeenVogue.com  'Read During Spring Break' selection

"If you're into T.V. dramas like Smash, or love the over-the-top fashion of The Great Gatsby, Starstruck will have you hooked!"—a Seventeen.com  'What to Read This Summer' selection



Praise For Starstruck…
TeenVogue.com, March 11, 2013:
"This author's razor-sharp writing has been published by high-brow publications like Salon and McSweeney's, and she maintains that same wit and humor in her first foray into YA. About Old Hollywood starlets in varying stages of professional success, think of this as Valley of the Dolls for a new generation."

Seventeen.com, March 29, 2013:
"Why we're buzzing about it: Rachel Shukert's Starstruck is not a typical Hollywood tale. This novel is filled with glamour and ambition, but it has tons of drama and mystery, too."

The Huffington Post, March 6, 2013:
"As a blogger, playwright, and the author of two memoirs, Rachel Shukert has already proven herself to be one of the most hilarious and talented writers ever, forever. But  Starstruck is epic and expert in a new way...The result is witty, breathtaking, and a priceless addition to both the young adult and historical genre."

HelloGiggles.com, March 9, 2013:
"I completely fell in love with it. If you're a fan of old Hollywood, glamour, drama or just good writing, chances are you'll love it, too... Starstruck is an insanely compelling read, and not just because it's fun and exciting and glamorous (although it is all of those things). I'm not a huge old Hollywood buff, but Rachel Shukert includes so many details about the culture and time period that it's impossible not to get sucked in."

The Atlantic Wire, January 3, 2013:
"Old Hollywood plus Y.A.,like a Laura Lamont for the teen-reader set."

Publishers Weekly, March 25, 2013:
"Set during the 1930s, this scintillating series opener shines the spotlight on three very different Hollywood hopefuls...Readers will gladly immerse themselves in the almost mythological setting of Hollywood's Golden Age."

Kirkus Reviews, February 1, 2013:
"Shukert's foray into the teen market is well-plotted and carefully nuanced; historical details are crisp and vivid without being too obtuse; the narrative is tight and masterful, mixing just the right amount of cattiness and salaciousness with secrets that reveal themselves one after another. The result is a compulsively readable piece sure to appeal to fans of Anna Godbersen and Judy Blundell...Historical fiction that's both smart and sassy."

Booklist, April 15, 2013:
"This is part Valley of the Dolls, part Modern Screen magazine, and lots of fun. The tropes are hoary—the evils of Hollywood, the bad girl trying to hide her past for the love of a good man—but they'll be new to many teenage readers. A surprise ending (a real surprise) is over the top in the best possible way."

School Library Journal, May 2013:
"The Golden Age of Hollywood–and its gritty underside–is captured with real flair in this novel...this novel evokes late-1930s Hollywood with panache. Characters are well drawn, representing common archetypes but with a twist. Bound to appeal to fans of Anna Godbersen and Judy Blundell."

DuJour.com, March 12, 2013:
"Starstruck reads like a smarter, more real Valley of the Dolls...As with all satisfying novels, the worst part of Starstruck is that it comes to an end."

The Bulletin of the Center for Children's Books, April 2013:
"Shukert has enough historical and contextual knowledge to give satisfying depth to the froth in this cinematic sudser...Readers who adore the black and white selections in their Netflix queue will eat this up like popcorn."

 "Wit, pluck, darkness, pitch-perfect period details, juicy twists, and big heart. This book is one to savor."—Anna Godbersen, New York Times bestselling author of the Luxe and Bright Young Things series

"Thrilling, superb, and dizzyingly glamorous . . .  I was completely 'starstruck!'"—Jillian Larkin, author of The Flappers
Delacorte Press, 9780385741088, 352pp.
Publication Date: March 12, 2013
About the Author
RACHEL SHUKERT is the author of Everything Is Going to Be Great, Have You No Shame?, and the Starstruck novels. She has been fascinated by the Golden Age of Hollywood since she was a girl, when she used to stay up all night watching old movies and fall asleep the next day at school. Rachel grew up in Omaha, Nebraska, and graduated from New York University. She lives in New York City with her husband. Visit her at rachelshukert.com.
or
Not Currently Available for Direct Purchase