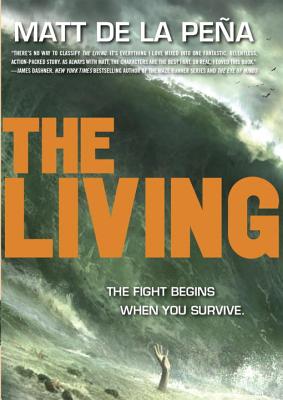 The Living (Hardcover)
Delacorte Press, 9780385741200, 320pp.
Publication Date: November 12, 2013
* Individual store prices may vary.
Description
Newbery Award-winning author Matt de la Pena's The Living is "a rare thing: a plot-driven YA with characters worthy of a John Green novel. Entertainment Weekly, A-]
Shy took the summer job to make some money. In a few months on a luxury cruise liner, he'll rake in the tips and be able to help his mom and sister out with the bills. And how bad can it be? Bikinis, free food, maybe even a girl or two every cruise has different passengers, after all.
But everything changes when the Big One hits. Shy's only weeks out at sea when an earthquake more massive than ever before recorded hits California, and his life is forever changed.
The earthquake is only the first disaster. Suddenly it's a fight to survive for those left living.
Look for the thrilling sequel, The Hunted, in bookstores now

Praise for The Living
De la Pena has created a rare thing: a plot-driven YA with characters worthy of a John Green novel. -Entertainment Weekly, A-
Action is first and foremost. . . . De la Pena can uncork delicate but vivid scenes. The New York Times
The Living] is special because of its extraordinary protagonist, Shy, who I haven t been able to shake from my mind in the weeks since I read the book. -John Green, author of The Fault in Our Stars

"There's no way to classify The Living. It's everything I love mixed into one fantastic, relentless, action-packed story. As always with Matt, the characters are the best part. So real. I loved this book."-James Dashner, #1 New York Times bestselling author of the Maze Runner series

STAR] "An addictive page-turner and character-driven literary novel with broad appeal for fans of both."-Kirkus Reviews, Starred
STAR] "An excellent, enthralling ride...a great read for those looking for adventure and survival stories."-VOYA, Starred
A Pura Belpre Author Honor Award Winner
An ALSC Notable Children's Book Pick
About the Author
The Living is Newbery Award-winning author Matt de la Pena s fifth novel and for which he received the Pura Belpre Author Honor Award. He attended the University of the Pacific on a basketball scholarship and went on to earn a Master of Fine Arts in creative writing at San Diego State University. He lives in Brooklyn, New York, where he teaches creative writing. Look for Matt s other books, Ball Don t Lie, Mexican WhiteBoy, We Were Here, I Will Save You, and The Hunted, all available from Delacorte Press. You can also visit him at mattdelapena.com and follow @mattdelapena on Twitter."
Praise For The Living…
Entertainment Weekly, November 13, 2013:
"The Living seamlessly incorporates his trademarks (racial identity, class, street slang) into a lightning-paced page-turner...De la Peña has created a rare thing: a plot-driven YA with characters worthy of a John Green novel. A-"

New York Times Book Review, November 10, 2013:
"Action is first and foremost in 'The Living'…The breathless conclusion, with an escape by helicopter and a cliff-top showdown, sets up a sequel, scheduled to be published next year."

NPR Weekend Edition, November 23, 2013:
"A disaster epic, a survival story, and a coming-of-age novel filled with the life of a young man who's becoming aware of class, prejudice, and romance." - Scott Simon

Starred Review, Kirkus Reviews, October 1, 2013:
"It's a harrowing, exhilarating ride right up to the cliffhanger ending. An addictive page-turner and character-driven literary novel with broad appeal for fans of both."

Starred Review, Shelf Awareness, October 23, 2013:
"In Matt de la Peña's compulsively readable thriller...the breakneck plot will draw readers in, but Shy's personal discoveries about how the world is skewed toward those in power, and his decisions to do the right thing, will hold their attention."

The Rumpus, November 6, 2013:
"The Living is action-driven but doesn't lose the literary form, while still exploring the themes of race and class."

Booklist, September 1, 2013:
"Much of the fun of de la Peña's latest is how unexpectedly he blends genres, making this, in a sense, four books in one: a finely observed social-class drama, an on-the-sea survival adventure, a global-disaster book, and a contagion thriller."

School Library Journal, October 2013:
"Adventure survival enthusiasts will relish the vivid and raw descriptions of the sinking ship, blistering sun, and shark-infested waters. But most appealing is the empathetic teen, portrayed as a tough guy with a romantic side, who will appeal to both males and females, and is likely to appear in the upcoming sequel, The Forgotten."

Publishers Weekly, October 7, 2013:
"De la Peña delivers near-constant action, a high body count, and a compelling cast of characters in this socially aware thriller...De la Peña injects his hybrid natural/medical disaster novel with sharp commentary on social injustice, classism, and discrimination, and the effects of the story's many calamities set the stage for a planned sequel."

The Bulletin:
"Peña takes the time to establish some solid rapport among his characters before unleashing the mayhem, though, and the central disease and drug scam is so viciously immoral that readers will probably book passage on the upcoming sequel, to learn whether Shy and his two smokin'-hot love interests will bring the bad guys to their knees."

Starred Review, VOYA, December 2013:
"A great read for those looking for adventure and survival stories with some good character growth and introspection for others, this should have a wide and satisfied readership."
or
Not Currently Available for Direct Purchase