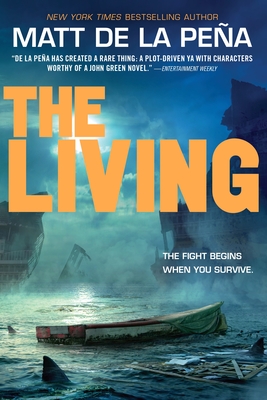 The Living (Paperback)
Ember, 9780385741217, 336pp.
Publication Date: January 6, 2015
Description
Newbery Award-winning author Matt de la Pena's The Living is "a rare thing: a plot-driven YA with characters worthy of a John Green novel." Entertainment Weekly, A-] Shy takes the summer job to make some money. A few months on a luxury cruise liner--how bad can it be? Bikinis, free food, maybe even a girl or two . . . every cruise has a fresh crop of passengers, after all. He'll rake in the tips and be able to help his mom and sister out with the bills.
But then, an earthquake more massive than any ever recorded hits California and Shy's life is changed forever.
The earthquake is only the beginning. Twenty-four hours and a catastrophic chain of events later, Shy is lost at sea, fighting to survive--and stuck with her.
She's blond and she's rich, and never in her life would she have dreamed she'd be adrift in the Pacific Ocean, surrounded by death and completely dependent on a guy like Shy.
And Shy hasn't even faced the worst yet.
Look for the thrilling sequel, The Hunted, in bookstores now Praise for The Living "De la Pena has created a rare thing: a plot-driven YA with characters worthy of a John Green novel."-Entertainment Weekly, A- "Action is first and foremost. . . . De la Pena can uncork delicate but vivid scenes." --The New York Times " The Living] is special because of its extraordinary protagonist, Shy, who I haven't been able to shake from my mind in the weeks since I read the book."-John Green, author of The Fault in Our Stars

"There's no way to classify The Living. It's everything I love mixed into one fantastic, relentless, action-packed story. As always with Matt, the characters are the best part. So real. I loved this book."-James Dashner, #1 New York Times bestselling author of the Maze Runner series

STAR] "An addictive page-turner and character-driven literary novel with broad appeal for fans of both."-Kirkus Reviews, Starred STAR] "An excellent, enthralling ride...a great read for those looking for adventure and survival stories."-VOYA, Starred A Pura Belpre Author Honor Award Winner An ALSC Notable Children's Book Pick
About the Author
The Living is Newbery Award-winning author Matt de la Pena's fifth novel and for which he received the Pura Belpre Author Honor Award. He attended the University of the Pacific on a basketball scholarship and went on to earn a Master of Fine Arts in creative writing at San Diego State University. He lives in Brooklyn, New York, where he teaches creative writing. Look for Matt's other books, Ball Don't Lie, Mexican WhiteBoy, We Were Here, I Will Save You, and The Hunted, all available from Delacorte Press. You can also visit him at mattdelapena.com and follow @mattdelapena on Twitter. From the Hardcover edition.
Advertisement