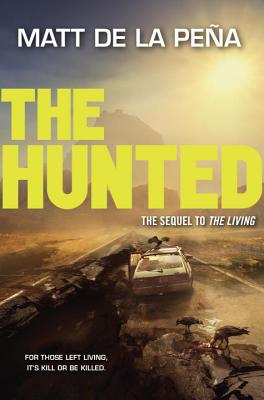 The Hunted (The Living Series) (Hardcover)
Delacorte Press, 9780385741224, 384pp.
Publication Date: May 12, 2015
* Individual store prices may vary.
Description
Newbery Medal-winning author Matt de la Peña's The Hunted is a high-energy, action-packed survival story and the sequel to The Living.

"De la Peña has created a rare thing: a plot-driven YA with characters worthy of a John Green novel."-Entertainment Weekly review of The Living, A-
 
   When the Big One hit, Shy was at sea in style. The Paradise Cruise luxury liner he worked on was a hulking specimen of the best money could buy. And now it's at the bottom of the Pacific Ocean, along with almost all of its passengers.
   Shy wasn't the only one to survive, though. Addie, the rich blond daughter of a mysterious businessman, was on the dinghy he pulled himself into. But as soon as they found the rest of the survivors, she disappeared.
The only thing that filled the strange void of losing her was finding Carmen, his hot coworker, and discovering a way to get back home. But Shy's luck hasn't turned. Not yet.
   Back on the dinghy, Addie told him a secret. It's a secret that people would kill for--have killed for--and she has the piece that could turn everything on its ear. The problem? Shy has no idea where Addie is. Back home in California seems logical, but there are more ways to die back home then Shy could ever have guessed.
   And thanks to what Shy now knows, he's a moving target.

Praise for The Hunted:

"Readers will be drawn to the raw and gritty setting, fast-moving plot, and diverse characters worth rooting for."—School and Library Journal

"Between [the] fast-paced plot and meaningful, diverse character development, this is a great crossover for fans of both thrillers and more character-driven novels."-Booklist

An International Latino Book Award Best Young Adult Fiction Honorable Mention Book

Praise for The Living:

"De la Peña has created a rare thing: a plot-driven YA with characters worthy of a John Green novel."-Entertainment Weekly, A-
 
"Action is first and foremost. . . . De la Peña can uncork delicate but vivid scenes." —The New York Times

"[The Living] is special because of its extraordinary protagonist, Shy, who I haven't been able to shake from my mind in the weeks since I read the book."-John Green, author of The Fault in Our Stars

[STAR] "An addictive page-turner and character-driven literary novel with broad appeal for fans of both."-Kirkus Reviews, Starred

[STAR] "An excellent, enthralling ride...a great read for those looking for adventure and survival stories."-VOYA, Starred

A Pura Belpré Author Honor Award Winner

An ALSC 2014 Notable Children's Book Pick
About the Author
Matt de la Peña is the first Mexican American author to win the Newbery Medal. He attended the University of the Pacific on a basketball scholarship and went on to earn a Master of Fine Arts in creative writing at San Diego State University. He lives in Brooklyn, New York, where he teaches creative writing. The Hunted is his sixth novel. Look for his other books, Ball Don't Lie, Mexican WhiteBoy, We Were Here, I Will Save You, and The Living, which was named a Pura Belpré Honor Book, all available from Delacorte Press. You can also visit him at mattdelapena.com and follow @mattdelapena on Twitter.
Praise For The Hunted (The Living Series)…
Praise for The Hunted:

"Readers will be drawn to the raw and gritty setting, fast-moving plot, and diverse characters worth rooting for."—School and Library Journal

"Between [the] fast-paced plot and meaningful, diverse character development, this is a great crossover for fans of both thrillers and more character-driven novels."-Booklist

An International Latino Book Award Best Young Adult Fiction Honorable Mention Book

Praise for The Living:

"De la Peña has created a rare thing: a plot-driven YA with characters worthy of a John Green novel."-Entertainment Weekly, A-
 
"Action is first and foremost. . . . De la Peña can uncork delicate but vivid scenes." —The New York Times

"[The Living] is special because of its extraordinary protagonist, Shy, who I haven't been able to shake from my mind in the weeks since I read the book."-John Green, author of The Fault in Our Stars

"There's no way to classify The Living. It's everything I love mixed into one fantastic, relentless, action-packed story. As always with Matt, the characters are the best part. So real. I loved this book."-James Dashner, #1 New York Times bestselling author of the Maze Runner series

[STAR] "An addictive page-turner and character-driven literary novel with broad appeal for fans of both."-Kirkus Reviews, Starred

[STAR] "An excellent, enthralling ride...a great read for those looking for adventure and survival stories."-VOYA, Starred

A Pura Belpré Author Honor Award Winner

An ALSC 2014 Notable Children's Book Pick