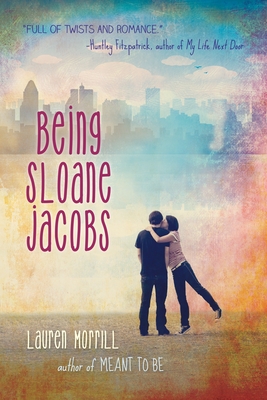 Being Sloane Jacobs (Paperback)
Ember, 9780385741804, 352pp.
Publication Date: June 23, 2015
Other Editions of This Title:
Digital Audiobook (1/6/2014)
Hardcover (1/7/2014)
Compact Disc (1/7/2014)
* Individual store prices may vary.
Description
Switching places with someone else has never been more fun than in this novel about following your dreams and finding your heart from the author of Meant to Be --perfect for readers of Emery Lord and Morgan Matson!

Meet Sloane Emily Jacobs: a seriously stressed-out figure skater who choked during junior nationals. 

Now meet Sloane Devon Jacobs, a spunky ice hockey player who's been suspended from her team for too many aggressive hip checks.

The two girls are on their way to skating camps in Montreal when a luggage mix-up causes them to meet. Pretty soon, the Sloanes realize that this is the opportunity they've been waiting for: the chance to escape their lives and switch places for the summer. But it didn't occur to Sloane E. that she might meet a hockey hottie; and Sloane D. never expected to run into a familiar (and very good-looking) face from home. It's not long before the Sloanes discover that convincing people you're someone else might be more difficult than being yourself. 

***

"A twist on the identity-swap that's both cozily familiar and fresh . . . . sweetly uplifting." --Publishers Weekly 

"Enjoyable." --Kirkus Reviews

"Sweet and satisfying." --Booklist

"Super cute, super hilarious and a totally fun read. I'm a big fan of the "two people switch places and fool everyone around them" plot line (see: The Parent Trap), and Being Sloane Jacobs pulled it off awesomely." –HelloGiggles.com 
About the Author
Lauren Morrill is the author of MEANT TO BE, BEING SLOANE JACOBS, THE TROUBLE WITH DESTINY, MY UNSCRIPTED LIFE, and BETTER THAN THE BEST PLAN. She grew up in Maryville, Tennessee, where she was a short-term Girl Scout, a (not-so) proud member of the marching band, and a troublemaking editor for the school newspaper. She lives in Macon, Georgia, with her family.
Praise For Being Sloane Jacobs…
"Escaping from your own life and fitting perfectly—and hilariously imperfectly—into someone else's? Who doesn't fantasize about that? Morrill nails this unforgettable story full of twists and romance." —Huntley Fitzpatrick, author of My Life Next Door

"Being Sloane Jacobs was super cute, super hilarious and a totally fun read." --HelloGiggles

"Charming and feisty characters (and crush-worthy guys!) make this a guaranteed-to-leave-you-smiling read." --Justine Magazine

"The two strong teens carry the text, providing an enjoyable, on-ice adventure. A thoughtful reminder that it is difficult to walk a mile in someone else's shoes—or in this case, skates." --Kirkus Reviews

"Rather than skating on the surface of a time-honored plot twist, Morrill portrays each Sloane with the grit to cross-train in a new skating sport, the perseverance to withstand the competitors' bullying and hijinks, the honesty to be true to new friends or at least struggle in the challenge, and the grace to respect each other's futures...A sweet and satisfying resolution." --Booklist

"Morrill (Meant To Be) delivers a twist on the identity-swap that's both cozily familiar and fresh...A relatable coming-of-age story." --Publishers Weekly

"Woven through the story are threads about family, friendship, identity, and romance...This coming-of-age novel sports good character development, especially in the talented doppelgängers." --School Library Journal

"This is a feel-good story with flashes of honesty: the two girls learn to respect each other (and each other's sport) without become besties, find themselves capable of surviving in unfamiliar territory without discovering latent genius, and ultimately make tentative peace with their families while knowing the road to healing will be long...This book will suit romantics who hadn't thought to wonder what would happen if The Parent Trap met The Cutting Edge." --Bulletin of the Center for Children's Books

"Parent Trap meets The Town Mouse and the Country Mouse . . . For adolescent girls who like contemporary, light romance and for fans of Sarah Dessen." --VOYA

"Morrill writes with perfect balance in dual first person narratives, switching back and forth between each character's disguises. . . . The fun and fresh style of writing will capture teen reader's attention as the debutantes and the cast of supporting characters learns to cope, adapt, compete, and trust in each other." --Children's Literature