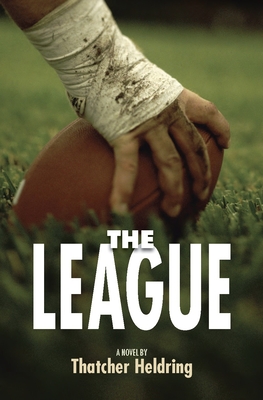 The League (Paperback)
Yearling, 9780385741828, 240pp.
Publication Date: April 14, 2015
Other Editions of This Title:
Hardcover (9/10/2013)
Library Binding (9/10/2013)
* Individual store prices may vary.
Description
The League "will keep sports fans reading" when all one boy wants is to play in a summer football league even though it's the roughest and most secretive rogue league in town (Kirkus Reviews).

And don't miss Thatcher Heldring's newest novel, The Football Girl--about a girl who follows her passion for the game and tries out for the football team!

Two teams. One summer. No rules.

   Wyatt Parker is tired of getting picked on by bullies and ignored by girls. He hopes playing football will toughen him up and impress his next-door neighbor Evan, who has her eye on the town's star quarterback.
    His older brother, Aaron has an even better idea: if Wyatt ditches the lame golf camp his parents signed him up for, he can play with Aaron in the League of Pain, the roughest and most secretive rogue football league in town.
    Now Wyatt has a choice. He can play by the rules like he always does, or he can steal back his neighbor, accept the penalties of the game, and have the winning summer he's been waiting for all year.

"With its focus on bullying, a first crush, changing friendships, and coming of age, this book is a solid choice for reluctant readers who also happen to love football."–SLJ

"Heldring's latest novel conveys well the allure of contact sports, particularly tackle football, and the appeal of evasive tactics, particularly lying to your parents."–Booklist

"Wyatt is a strong, multidimensional character, and the tension is palpable as he strives to keep his secret. Secondary characters are varied if not very fully developed early in the book."– Kirkus Reviews
About the Author
THATCHER HELDRING grew up in the Pacific Northwest, where he taught himself to write and play sports—though not at the same time. He has had several jobs in publishing. He has also worked as a grocery bagger, a ditchdigger, a small forward, a goalie, a scorekeeper, a coach, a rabid fan, a benchwarmer, and a shortstop. This is his second novel. He lives with his wife and son in Seattle, a good place for indoor sports.
Praise For The League…
Gr 5-9–Wyatt Parker is an awkward eighth grader who gets picked on by bullies and told what to do by his parents; his older brother, Aaron; and even his best friend, Francis. During the summer between middle school and high school, he tries to convince his parents that playing recreational football would be a better idea than going to boring golf camp. He's sick of being pushed around and wants to impress his crush-worthy neighbor. When they refuse to let him play, Aaron, a known troublemaker, makes Wyatt a deal he can't refuse: if Wyatt ditches golf camp and keeps it a secret from their parents, Aaron will let him play in the "League of Pain," a rough and dirty secret football league in their town. Heldring creates a believable story about one boy's journey to find himself and make his own decisions. Although the plot develops slowly, at the halfway point the pace picks up. With its focus on bullying, a first crush, changing friendships, and coming of age, this book is a solid choice for reluctant readers who also happen to love football.–School, Library Journal 

Heldring's latest novel well conveys the allure of contact sports, particularly tackle football, and the appeal of evasive tactics, particularly lying to your parents. Of course, Heldring shows how lying fails Wyatt Parker in the end, but he also makes Wyatt's actions understandable. Wyatt is introduced as a model eighth-grade student, but it's the start of the summer, and he feels a need to prove himself. For too long, bigger kids have bothered, if not bullied, him, and although his parents are pushing him into golf camp, he'd rather play flag football. So, in a tale narrated by Wyatt in hindsight, he ditches golf camp to sneak off to his older brother's secret football league. Wyatt's deceit extends beyond his parents, but his desire to be part of a group, combined with the exhilaration of excelling at a team sport, helps him justify to himself what he's doing. Heldring deftly shows how Wyatt figures out the differences between him and his brother as well as the great appeal of a clear conscience.--Booklist



A conscientious, undersized middle schooler decides he wants sports success even if it means lying about the secret league he joins.
Wyatt Parker has decided he is tired of being bullied, and he also wants his best buddy, girl-next-door Evan, to see him as more than a friend. The fact that she seems smitten with a high school quarterback reinforces the idea that playing football is the answer. His parents are supportive of sports: His older brother, Aaron, plays football. Wyatt, though, is small for his age, and they think the sport too dangerous, so his dad enrolls him in golf camp. Then his older brother lets him in on a secret football league with no adult supervision, where the hitting is fierce and only the toughest are welcome, including his school's biggest bully. In order to play, Wyatt will have to engage in the kind of deception that he hates. The more he becomes involved in the league, the more he changes, until his relationship with Evan is affected. This story weaves family issues with the role that sports plays for teens, especially in the transitional period leading to high school. Wyatt is a strong, multidimensional character, and the tension is palpable as he strives to keep his secret. Secondary characters are varied if not very developed early in the book.
The action scenes add a level of excitement that will keep sports fans reading.--Kirkus