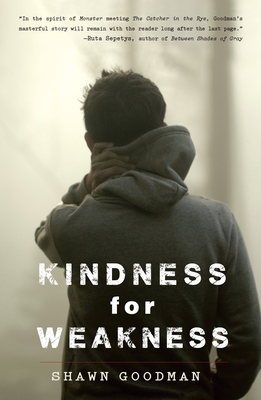 Kindness for Weakness (Paperback)
Ember, 9780385743259, 272pp.
Publication Date: January 27, 2015
Other Editions of This Title:
Hardcover (5/14/2013)
Library Binding (5/14/2013)
* Individual store prices may vary.
Description
"In the spirit of [Walter Dean Myers's] Monster meeting  The Catcher in the Rye, Goodman's masterful story will remain with the reader long after the last page, echoing the raw truth that perhaps a real man is one who is both brave and scared." —Ruta Sepetys, author of Between Shades of Gray


In an environment where kindness equals weakness, how do those who care survive?

Shawn Goodman will capture your heart with this gritty, honest, and moving story about a boy struggling to learn about friendship, brotherhood, and manhood in a society where violence is the answer to every problem.


A Tayshas Reading List Pick
An  ALA-YALSA Best Fiction for Young Adults Book
 
"Shawn Goodman takes us inside the gritty world of our juvenile justice system with the verve of a master storyteller." —Jordan Sonnenblick, author of Drums, Girls & Dangerous Pie
 
"A gripping story of a boy's climb to manhood on his own terms." —Paul Volponi, author of The Final Four
 
"The reader will be seized by [the boy's] plight and his determination not only to survive, but to better himself." —Todd Strasser, author of Give a Boy a Gun
 
"Kindness for Weakness is a daring, dazzling leap into the dark passage that is the journey to manhood." —Paul Griffin, author of The Orange Houses
 
"Gripping action, gritty dialogue, vivid characters, and palpable tension permeate the brief chapters of James's powerful, honest, compelling narrative." —School Library Journal
About the Author
SHAWN GOODMAN is a writer and a school psychologist. His experiences working in several New York State juvenile detention facilities inspired him to write. He has been an outspoken advocate for juvenile justice reform and has written and lectured on issues related to special education, foster care, and literacy. Shawn lives in Ithaca, New York, with his wife and children. Visit him at ShawnGoodman.com.
Praise For Kindness for Weakness…
Seventeen.com Book Club Pick, May 31, 2013
"Kindness for Weakness is about a guy with a painful past you'll be rooting for from beginning to end...In this coming-of-age tale, kind-hearted James struggles to resist the all-consuming vicious cycle of cruelty in the prison."

Starred Review, School Library Journal, June 2013:
"Gripping action, gritty dialogue, vivid characters, and palpable tension permeate the brief chapters of James's powerful, honest, compelling narrative."

Kirkus Reviews, April 1, 2013:
"Goodman's background as a school psychologist is evident in his deeply felt characters and well-realized setting.Readers who are not familiar with the often-harsh conditions of the juvenile justice system will receive a realistic and compelling examination of adolescent life behind bars."

Publishers Weekly, April 15, 2013
"Goodman, who has worked inside such facilities himself, expresses harsh criticism of the juvenile justice system while telling a deeply personal story of an abused teen's struggles to free himself from the constraints preventing him from reaching his goals. James's expanding perception of the world inside and outside of the facility gives insight into the perpetuation of teen violence."

Library Media Connection:
"The book is filled with action but James is always aware of who he is and who he could become in life if given a chance."
 

"Shawn Goodman takes us inside the gritty world of our juvenile justice system with the authority of an expert, the unsparing eye of a social reformer, and the verve of a master storyteller." —Jordan Sonnenblick, the author of Drums, Girls & Dangerous Pie

"A gripping story of a boy's climb to manhood on his own terms" —Paul Volponi, author of The Final Four

"The main character, James, is an authentic young man with real feelings and fears, and the reader will be seized by his plight and determination not only to survive, but to better himself." —Todd Strasser, author of Give a Boy a Gun

"Shawn Goodman leaves his huge heart on every page of this brave and truly beautiful novel. Kindness for Weakness is a daring dazzling leap into the dark passage that is the journey to manhood." —Paul Griffin, author of The Orange Houses