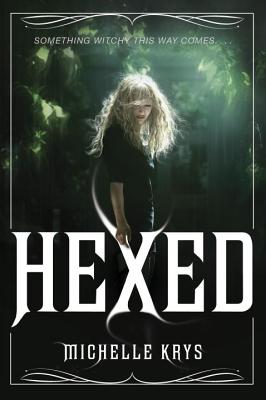 Hexed (Hardcover)
Delacorte Press, 9780385743372, 373pp.
Publication Date: June 10, 2014
Description
The first novel in the spellbindingly sexy two-book series about a teenage witch in L.A. by Michelle Krys, author of DEAD GIRLS SOCIETY
Victoria Scott, author ofFire & Flood raves that HEXED is "Fast-paced with sizzling tension " andAmy Plum, author of the Die For Me series, calls it "Wicked fun "

Indie Blackwood is a popular cheerleader with a football-star boyfriend. On the surface, her life looks perfect. But when aguy dies right before her eyes and an ancient family Bible is stolen, Indie's world spirals into darkness. Turns out, Indie has a destiny. And it involves much more than pom-poms and parties.
If she doesn't get the Bible back, every witch on the planet will die. And that's seriously bad news for Indie, because according to Bishop, the hot warlock who has an uncanny knowledge of everything that matters, she's a witch too.
Indie is about to uncover the many dark truths about her life and a future unlike any she ever imagined on top of the cheer pyramid.
Want more HEXED? Don't miss the next HEXED book, CHARMED.
***

"A perfect mix of action, romance, and humor - HEXED kept me riveted until the very last page " Amy Tintera, author of theREBOOT duology and the RUINED trilogy

Seriously fun, deliciously enjoyable. The Huffington Post

About the Author
MICHELLE KRYSis the author ofHexedandCharmedand the highly anticipatedDead Girls Society, coming November 2016.When she s not writing books for teens, Michelle moonlights as a NICU nurse.Michelle is probably not a witch, though she did belong to a witchcraft club in the fifth grade and levitated people in her bedroom, so that may be up for debate. She lives in Thunder Bay, Ontario, Canada, with her family. michellekrys.com @MichelleKrys on Twitter @michellekrysbooks on Instagram mkrysbooks on Snapchat"
Advertisement