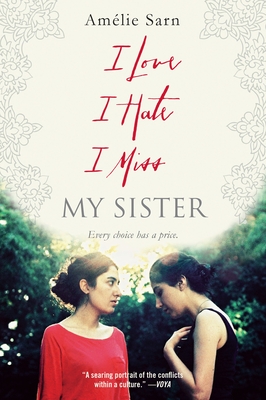 I Love I Hate I Miss My Sister (Paperback)
Ember, 9780385743778, 160pp.
Publication Date: April 12, 2016
Description
For readers ofThe Tyrant's Daughter, Out of Nowhere, andI AmMalala, this poignant story about two Muslim sisters is about love, loss, religion, forgiveness, women's rights, and freedom.
Two sisters. Two lives. One future.
Sohane loves no one more than her beautiful, carefree younger sister, Djelila. And she hates no one as much. They used to share everything. But now, Djelila is spending more time with her friends, partying, and hanging out with boys, while Sohane is becoming more religious.
When Sohane starts wearing a head scarf, her school threatens to expel her. Meanwhile, Djelila is harassed by neighborhood bullies for not being Muslim enough. Sohane can t help thinking that Djelila deserves what she gets. But she never could have imagined just how far things would go. . . .
An Amelia Bloomer Project List Selection
A CBC Notable Social Studies Trade Book of the Year
A Bank Street Best Book of the Yearwith Outstanding Merit
"Sarn spoignantnovel surely raises issues of religious freedom, but it is foremost a coming-of-age story about personal choice and the uniquely powerful bond between sisters." The Horn Book Magazine
" A] moving story, which providesrich material for conversationabout family relations, religious identity, and civil liberties." Publisher's Weekly
Thought-provoking. Kirkus Reviews
"Importantand timely." Booklist
"Inseamlesschapters transitioning between present and past, this short, fast-paced, tragic story contrasting two clearly drawn Muslim sisters explores similar contemporary cultural and religious issues portrayed in Randa Abdel-Fattah sDoes My Head Look Big in This?" School Library Journal
A fair and balanced look at not just two equal and opposite perspectives on these issues, but at the multiple, refracted, messy nuances in between. The Bulletin
Asearingportrait of the conflicts within a culture. VOYA
Sarn writes with concise, timelyinsight about culture, religion, and politics, but what lingers most is the powerful bonds of sisterhood. smithsonianapa.org

From the Hardcover edition.
About the Author
Amelie Sarn has written numerous novels, as well as comic books in her native France."
Advertisement