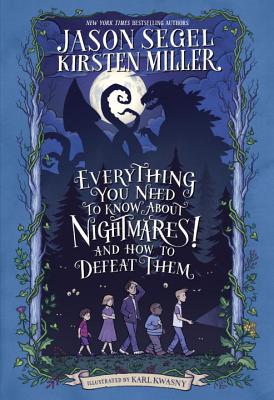 Everything You Need to Know About NIGHTMARES! and How to Defeat Them (Hardcover)
The Nightmares! Handbook
Delacorte Books for Young Readers, 9780385744317, 240pp.
Publication Date: September 12, 2017
Other Editions of This Title:
Digital Audiobook (9/11/2017)
Library Binding (9/12/2017)
* Individual store prices may vary.
Description
A handbook for beating nightmares from the New York Times bestselling authors of the Nightmares! series, Jason Segel and Kirsten Miller.
 
Nightmares. They come in all shapes and sizes—from gargantuan lizards to teensy creepy-crawlies. No matter their form, we know all too well, they are truly terrifying. The good news is that every Nightmare, no matter how ferocious, mysterious, or hairy, can be defeated. And this book will tell you how.
 
Everything You Need to Know About NIGHTMARES! and How to Defeat Them is your one-stop guide to battling anything that goes bump in the night. Whether you're being chased by zombies or stalked by evil twins, this handy book will give you all the tools and tips you need to put your bad dreams to bed for good! Keep a copy under your pillow and you'll never fear Nightmares again!
 
Praise for the Nightmares! series

"Charlie Laird, who learns fear will eat you alive if you feed it, makes an impression, and . . . readers will want to accompany him again." —The New York Times Book Review

"A touching comical saga . . . about facing things that go bump in the night." —US Weekly

"Coraline meets Monsters, Inc. in this delightfully entertaining offering from actor [Jason] Segel and co-author [Kirsten] Miller." —Publishers Weekly
About the Author
Jason Segel used to have nightmares just like Charlie, and just like Charlie, he's learned that the things we're most afraid of are the things that can make us strong . . . if we're brave enough to face them. Jason likes acting, writing, making music, and hanging out with his friends. Sometimes he writes movies. Sometimes he writes songs for movies. Sometimes he stars in those movies and sings those songs. You might know him from The Muppets and Despicable Me. Your parents might know him from other stuff. Everything You Need to Know About NIGHTMARES! and How to Defeat Them is his fourth book for young readers. Look for the rest of the books in the Nightmares! series: Nightmares!, Nightmares! The Sleepwalker Tonic, and Nightmares! The Lost Lullaby, all available from Delacorte Press.
 
Kirsten Miller grew up in a small town just like Cypress Creek, minus the purple mansion. She lives and writes in New York City. Kirsten is the author of the acclaimed Kiki Strike books, the New York Times bestseller The Eternal Ones, and How to Lead a Life of Crime. Everything You Need to Know About NIGHTMARES! and How to Defeat Them is the fourth novel Kirsten has written with Jason Segel. You can visit her at kirstenmillerbooks.com or follow @bankstirregular on Twitter.
Praise For Everything You Need to Know About NIGHTMARES! and How to Defeat Them: The Nightmares! Handbook…
Praise for the Nightmares! series:

"Charlie Laird, who learns fear will eat you alive if you feed it, makes an impression, and . . . readers will want to accompany him again." —The New York Times Book Review

"A touching comical saga . . . about facing things that go bump in the night." —US Weekly

"Coraline meets Monsters, Inc. in this delightfully entertaining offering from actor [Jason] Segel and co-author [Kirsten] Miller." —Publishers Weekly