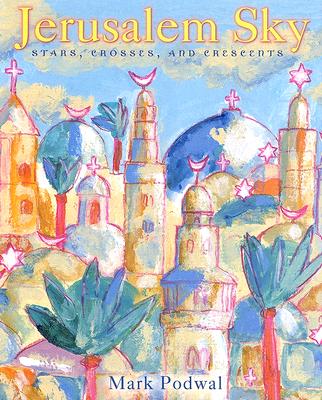 Jerusalem Sky (Hardcover)
Stars, Crosses and Crescents
Doubleday Books for Young Readers, 9780385746892, 32pp.
Publication Date: August 23, 2005
* Individual store prices may vary.
Description
Jerusalem–ancient home to Jews, Christians, and Muslims–is blanketed by a sky like no other. According to legend, the Jerusalem sky held off the rains for seven years while King Solomon built his temple. In the Jerusalem sky, the Bible tells us, a rising star announced the birth of Jesus. Through that same wondrous sky, Islamic belief holds, Muhammad climbed to heaven. In our own times, the Jerusalem sky fills with the sounds of worshippers praying for peace in the synagogues, churches, and mosques below. And each year new voices rise up to the Jerusalem sky, where so many miracles have been witnessed.
About the Author
Mark Podwal is the author and illustrator of numerous books, including "A Sweet Yea"r. His art has appeared in publications such as "The New York Times." He lives in New York City.
or
Not Currently Available for Direct Purchase