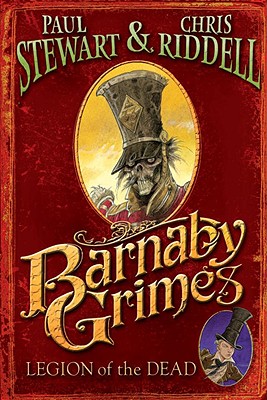 Barnaby Grimes: Legion of the Dead (Hardcover)
Legion of the Dead
David Fickling Books, 9780385751315, 240pp.
Publication Date: March 9, 2010
* Individual store prices may vary.
or
Not Currently Available for Direct Purchase
Description
"The corpses swayed where they stood, their bony arms outstretched before them and tattered sleeves hanging limply in the foggy air. I smelled the sourness of the sewers about them; that, and the sweet whiff of death. Their sunken eyes bored into mine. I was surrounded. . . ."

Barnaby Grimes is a tick-tock lad, delivering messages and running errands all over the city, day and night. Gangland funerals and diving expeditions are hazardous enough, but when the graveyards begin to give up their dead, this tick-tock lad is faced with his deadliest challenge yet. . . .

A blood-curdling tale of greed and betrayal. Will Barnaby be defeated by the Legion of the Dead?

Paul Stewart and Chris Riddell's incomparable Barnaby Grimes returns for another adventure in the third installment of the brilliantly exciting horrorthriller series set in Dickensian London.
About the Author
Paul Stewart and Chris Riddell are the creators of the bestselling Edge Chronicles series and the Far-Flung Adventures series.
Advertisement