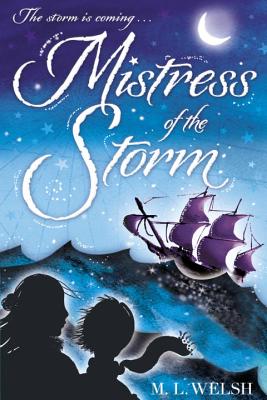 Mistress of the Storm (Paperback)
Yearling Books, 9780385752671, 318pp.
Publication Date: May 8, 2012
* Individual store prices may vary.
or
Not Currently Available for Direct Purchase
Description
Verity Gallant is a lonely little girl who doesn't quite fit in. But when a mysterious stranger hands her an ancient book, everything changes. Suddenly it's up to her to solve the riddle of an ancient pledge and protect her family from the evil Mistress of the Storm. What hope does she have against a witch so powerful she can control the wind and create storms at will? Luckily, Verity does not have to face her enemy alone. As events begin to spiral out of control, she finds two loyal and steadfast friends to stand by her side.

The Storm is coming. And it will change Verity's life forever.
About the Author
MELANIE WELSH spent her formative years in the sailing town of Cowes, on the Isle of Wight in England. The tightly-bound community, maritime history, and captivating landscapes were all sources of inspiration for the fictional town of Wellow in which "The Mistress of the Storm" is set.

Melanie now lives in Suffolk, near the seaside town of Southwold, with her husband Lucien and their two sons, Joe and Ben. To learn more about the author and her work, please visit VerityGallant.co.uk. "From the Hardcover edition.""
Praise For Mistress of the Storm…
Starred Review, School Library Journal, October, 2011:
Verity Gallant, 12, has always been the odd one out–the plain, dark-haired child overlooked in favor of her pretty, talented younger sister, Poppy. Her life changes dramatically after she receives an old book from an exotic stranger whom she sees in her local library. It tells the legends of the Mistress of the Storm, a being who commands obedience and terrifies all who cross her. Suddenly, the girls' never-before-seen step-grandmother appears, taking over Verity's room and taking an immediate dislike to the child. New friends Henry and Martha help Verity deal with the cruel woman and try to make sense of the stories she reads. As she begins to understand the many secrets about her family and the truths that are hidden in the book, she realizes that her life is in danger and that she needs to find strength and courage to save her parents and sister. An action-packed conclusion brings answers to many questions and offers a new beginning. Welsh has created a moving and gripping fantasy that will keep readers guessing and a cast of characters that moves beyond stereotypes and expectations, including a variety of helpful grown-ups. Verity is a sympathetic and engaging heroine, and readers will appreciate her friendships and relationship with Poppy, who becomes more sympathetic and supportive as the story evolves. Verity's grandmother is a threatening, looming presence, and her meek parents add a touch of humor. Fantasy fans will enjoy discovering along with Verity that behind everyday small-town life is a world that offers hidden magic–and not-so-hidden danger.–Beth L. Meister, Milwaukee Jewish Day School, WI
Advertisement