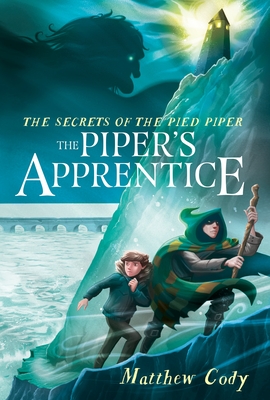 The Secrets of the Pied Piper 3 (Hardcover)
The Piper's Apprentice
Knopf Books for Young Readers, 9780385755306, 288pp.
Publication Date: October 24, 2017
* Individual store prices may vary.
Description
The epic conclusion to the trilogy bestselling author Adam Gidwitz called "a wild fantasy adventure" find siblings Max and Carter embroiled in the final battle against the evil Grannie Yaga!
 
On the mysterious Summer Isle, siblings Max and Carter discovered the magical land where the villainous Pied Piper led the children of Hamelin centuries ago. They were trapped outside of time in a never-ending clash against a vicious rat army. After a desperate battle with a cruel soul-stealing magician, Max and Carter found themselves separated: Max with their newfound allies (human and trollson alike), Carter with . . . the Piper.
 
Now Max is determined to reunite with her lost brother, restore her parents' stolen souls, and escape the Summer Isle once and for all. But the wicked Grannie Yaga doesn't intend for the siblings to leave without a fight.
 
But what role will the Piper play when all is said and done—and can he redeem himself from his own dark choices when his secrets are finally revealed?
 
Praise for The Peddler's Road:
 
"The Peddler's Road begins as a creepy fairy tale–mystery and then explodes into a wild fantasy adventure. . . . Cody has begun what promises to be an epic trilogy." —Adam Gidwitz, New York Times bestselling author of A Tale Dark and Grimm and The Inquisitor's Tale
 
"Prepare to be enchanted. Like the Pied Piper of Hamelin, Cody spins a wildly inventive, deeply heartfelt tale that whisks you off to a magical land where fairy tales live and breathe—and frequently try to kill you. From the first page, I was a goner." —John Stephens, New York Times bestselling author of The Emerald Atlas
About the Author
MATTHEW CODY is the author of Villainous, Powerless, Super, The Dead Gentleman, and Will in Scarlet. Originally from the Midwest, he now lives in New York City with his wife and young son. Besides novels, Matt has written for both DC Comics and Marvel, and is a regular moderator at the Thalia Book Club camp at Symphony Space. Find out more at matthewcody.com or @matthew_cody.
Praise For The Secrets of the Pied Piper 3: The Piper's Apprentice…
Praise for The Peddler's Road:
 
"The Peddler's Road begins as a creepy fairy tale–mystery and then explodes into a wild fantasy adventure. . . . Cody has begun what promises to be an epic trilogy." —Adam Gidwitz, New York Times bestselling author of A Tale Dark and Grimm and The Inquisitor's Tale
 
"Prepare to be enchanted. Like the Pied Piper of Hamelin, Cody spins a wildly inventive, deeply heartfelt tale that whisks you off to a magical land where fairy tales live and breathe—and frequently try to kill you. From the first page, I was a goner." —John Stephens, New York Times bestselling author of The Emerald Atlas