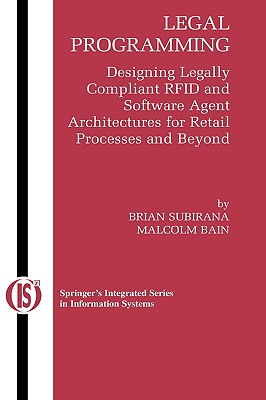 Legal Programming (Hardcover)
Designing Legally Compliant Rfid and Software Agent Architectures for Retail Processes and Beyond (Integrated Series in Information Systems #4)
Springer, 9780387234144, 313pp.
Publication Date: November 1, 2005
Other Editions of This Title:
Paperback (11/14/2014)
* Individual store prices may vary.
Description
Legal Programming: Designing Legally Compliant RFID and Software Agent Architectures for Retail Processes and Beyond provides a process-oriented discussion of the legal concerns presented by agent-based technologies, processes and programming. It offers a general outline of the potential legal difficulties that could arise in relation to them, focusing on the programming of negotiation and contracting processes in a privacy, consumer and commercial context. The authors will elucidate how it is possible to create form of legal framework and design methodology for transaction agents, applicable in any environment and not just in a specific proprietary framework, that provides the right level of compliance and trust. Key elements considered include the design and programming of legally compliant methods, the determination of rights in respect of objects and variables, and ontologies and programming frameworks for agent interactions. Examples are used to illustrate the points made and provide a practical perspective.