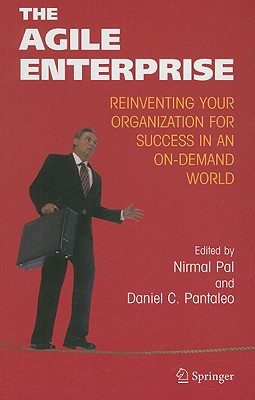 The Agile Enterprise (Hardcover)
Reinventing Your Organization for Success in an On-Demand World
Springer, 9780387250779, 332pp.
Publication Date: April 1, 2005
Other Editions of This Title:
Paperback (5/26/2005)
* Individual store prices may vary.
Description
One of the first widely available resources on the subject of adaptive enterprise.
The text takes on a new and burgeoning field of study and development and provides the opportunity to help shape and guide the thinking of decision makers in the world of both public and private sectors.
The authors contribute a wealth of experience from professional situations having worked for IBM Global Services Consulting Group and SAP Institute for Innovation and Development.
About the Author
Nirmal Pal is Executive Director of the eBusiness Research Center at The Pennsylvania State University, which fosters research in e-business strategy, management and marketing to improve business operations. He assumed this role in February, 2000. Before joining the University, he was Director, IBM Global Services Consulting Group, White Plains, New York. As a part of a distinguished 39-year career at IBM, he directed IBM's e-business consulting practice worldwide and worked closely with Fortune 500 clients on e-business strategies. His IBM network of e-business consultants worldwide were engaged in many consulting engagements with major organizations to help them with e-business, e-commerce, Intranet/Extranet, and other Internet related activities. As one of the leaders of IBM's e-business consulting activities, he was responsible for business development in this space, as well as development of supporting analytics/methods/tools and other intellectual assets for this new area of consulting and services. He has been a member of IBM Consulting Group's management team since its' inception in 1991 that helped grow the business for this unit from zero to over one billion US dollars, and from zero to over 5000 consultants, in just seven years. He holds degrees in Electrical Engineering and Computer Science. After a career of twenty-five years in higher education as a faculty member, Fulbright Scholar, Dean, academic vice president, and Provost, Dan Pantaleo spent four years as Vice President for Product Development with an interactive multimedia education and training developer. Dan left that post in 1997 to assume the responsibilities of Program Manager for SAP America's University Alliance Program where he has been able to apply his knowledge of higher education and interactive software to significantly develop the Program. Expanding his responsibilities, he was then appointed as Director of Higher Learning Initiatives for SAP America with responsibility for several higher learning projects including the University Alliance Program throughout all the Americas. Dan was recently appointed to lead the SAP Institute for Innovation and Development as Vice President. The Institute has responsibility for research and application projects, an Executive Education program, and the University Alliance program.