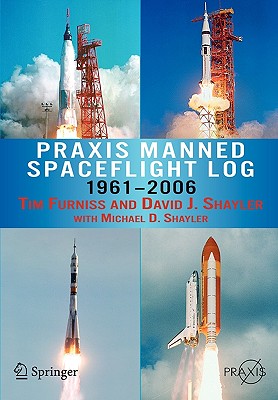 Praxis Manned Spaceflight Log 1961-2006
Paperback

* Individual store prices may vary.
Description
This flagship work charts a complete chronological log of orbital manned spaceflight. Included are the X-15 astroflights of the 1960s, and the two 1961 Mercury and Redstone missions which were non-orbital. There is an image depicting each manned spaceflight, and data boxes containing brief biographies of all the space travelers and basic flight data. The main text is a narrative of each mission, its highlights and accomplishments, including the strange facts and humorous stories connected to every mission. The resulting book is a handy reference to all manned spaceflights, the names of astronauts and cosmonauts who flew on each mission, their roles and accomplishments. Recent announcements of a return to the Moon and eventual manned flights to Mars, as new hardware and procedures are developed to support these long-range programs, emphasizes the case for future updates of this book.
Praxis Publications Inc, 9780387341750, 830pp.
Publication Date: February 22, 2007
About the Author
Tim Furniss is a well known author of 35 popular space science books including the bestselling Jane's Manned Spaceflight Log, published in 1983 and updated in 1987, which sold 16,000 plus copies, but is now out of print. Dave Shayler has authored and co-authored 7 successful Space Science Springer-Praxis books and has a further 3 under contract for publication in 2004. We therefore have the ideal team of authors for this flagship book.