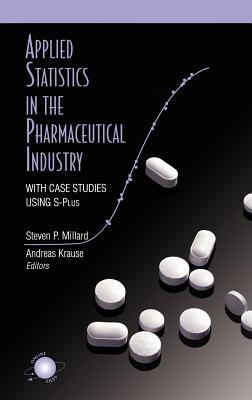 Applied Statistics in the Pharmaceutical Industry (Hardcover)
With Case Studies Using S-Plus
Springer, 9780387988146, 514pp.
Publication Date: June 27, 2001
Other Editions of This Title:
Paperback (12/1/2010)
* Individual store prices may vary.
Description
Each year hundreds of new drugs are approved for the marketplace. The approval of a single new drug is the result of years of screening tens of thousands of compounds, performing pre-clinical research on their effects, and designing, implementing, and analyzing the results of clinical trials. This book provides a general guide to statistical methods used in the pharmaceutical industry, and is aimed at graduate students and researchers who want to know more about statistical applications in all phases of the drug development process. The 19 chapters authored by over 30 statisticians working in the industry follow the general sequence of drug development, from pre-clinical research and saftey assessment to dose finding, safety studies, large clinical trials, analysis of health economic data, and fianlly manufacturing and production. Special topics such as single patient analysis and the impact of patient compliance show the broad spectrum of applications of data analysis methods. Each chapter illustrates a practical problem using data from actual studies by describing the study, the data, the methods, and the results. All of the analyses are done with S-PLUS, and the data and code are provided both in appendices to the chapters and on the companion Springer-Verlag web site, making it possible to reproduce the results and extend the analyses. Prior knowledge of the software is not required to follow the analyses. Steven P. Millard is a statistical consultant and also Manager of Consulting Services for MathSoft, Inc. (Data Analysis Products Division.) He has applied statistical methods to projects ranging from quality control in bioassay to measuring water quality to automating home appraisal, and has taught courses in S-PLUS for over 10 years. He is the author of the book Environmental Statistics with S-PLUS (CRC Press) as well as the S-PLUS add-in module ENVIRONMENTALSTATS for S-PLUS. Andreas Krause is a statistical consultant in the pharmaceutical industry and works for Novartis Pharma AG. He has extensive experience in graphical and numerical data analysis as well as programming, has taught numerous classes with and on S-PLUS, and is an S_PLUS user from the early days on. He is also author of the book The Basics of S and S-PLUS (Springer).