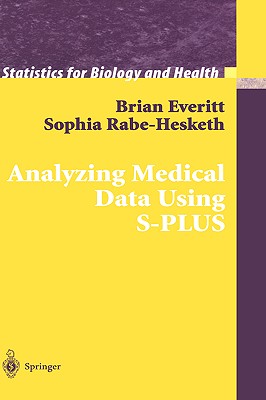 Analyzing Medical Data Using S-Plus (Statistics for Biology and Health) (Hardcover)
Springer, 9780387988627, 486pp.
Publication Date: September 21, 2001
Other Editions of This Title:
Paperback (12/6/2010)
* Individual store prices may vary.
Description
This book covers a range of statistical methods useful in the analysis of medical data, from the simple to the sophisticated, and shows how they may be applied using the latest versions of S-PLUS and S-PLUS 6. In each chapter several sets of medical data are explored and analysed using a mixture of graphical and model fitting approaches. At the end of each chapter the S-PLUS script files are listed, enabling readers to reproduce all the analyses and graphics in the chapter. These script files can be downloaded from a web site. The aim of the book is to show how to use S-PLUS as a powerful environment for undertaking a variety of statistical analyses from simple inference to complex model fitting, and for providing informative graphics. All such methods are of increasing importance in handling data from a variety of medical investigations including epidemiological studies and clinical trials. The mix of real data examples and background theory make this book useful for students and researchers alike. For the former, exercises are provided at the end of each chapter to increase their fluency in using the command line language of the S-PLUS software. Professor Brian Everitt is Head of the Department of Biostatistics and Computing at the Institute of Psychiatry in London and Sophia Rabe-Hesketh is a senior lecturer in the same department. Professor Everitt is the author of over 30 books on statistics including two previously co-authored with Dr. Rabe-Hesketh.