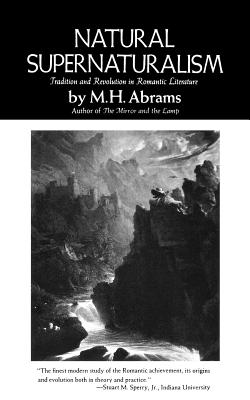 Natural Supernaturalism
Tradition and Revolution in Romantic Literature
Paperback

* Individual store prices may vary.
Description
"The first modern study of the Romantic achievement, its origins and evolution both in theory and practice."—Stuart M. Sperry, Jr., Indiana Unviersity
In this remarkable new book, M. H. Abrams definitively studies the Romantic Age (1789–1835)—the age in which Shelley claimed that "the literature of England has arisen as it were from a new birth." Abrams shows that the major poets of the age had in common important themes, modes of expression, and ways of feeling and imagining; that the writings of these poets were an integral part of a comprehensive intellectual tendency which manifested itself in philosophy as well as poetry, in England and in Germany; and that this tendency was causally related to drastic political and social changes of the age.
But Abrams offers more than a work of scholarship, for he ranges before and after, to place the age in Western culture. he reveals what is traditional and what is revolutionary in the period, providing insights into those same two forces in the ideas of today. He shows that central Romantic ideas and forms of imagination were secularized versions of traditional theological concepts, imagery, and design, and that modern literature participates in the same process. Our comprehension of this age and of our own time is deepened by a work astonishing in its learning, vision, and humane understanding.
W. W. Norton & Company, 9780393006094, 552pp.
Publication Date: August 17, 1973
About the Author
M. H. Abrams (1912—2015) was Class of 1916 Professor of English, Emeritus at Cornell University. He received the Phi Beta Kappa Christian Gauss Prize for The Mirror and the Lamp and the MLA's James Russell Lowell Prize for Natural Supernaturalism. He is also the author of The Milk of Paradise, A Glossary of Literary Terms, The Correspondent Breeze, and Doing Things with Texts. He is the recipient of Guggenheim, Ford Foundation, and Rockefeller Postwar fellowships, the Award in Humanistic Studies from the Academy of Arts and Sciences (1984), the Distinguished Scholar Award by the Keats-Shelley Society (1987), and the Award for Literature by the American Academy of Arts and Letters (1990). In 1999 The Mirror and the Lamp was ranked twenty-fifth among the Modern Library's "100 best nonfiction books written in English during the twentieth century."