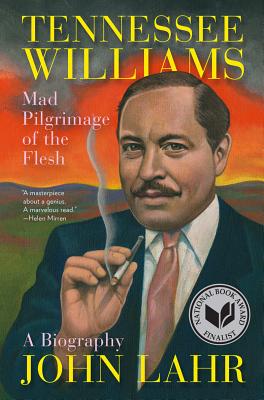 Tennessee Williams
Mad Pilgrimage of the Flesh
Hardcover

* Individual store prices may vary.
Other Editions of This Title:
Paperback (9/21/2015)
Description
Winner of the National Book Critics Circle Award in Biography and Finalist for the National Book Award.



The definitive biography of America's greatest playwright from the celebrated drama critic of The New Yorker.
John Lahr has produced a theater biography like no other. Tennessee Williams: Mad Pilgrimage of the Flesh gives intimate access to the mind of one of the most brilliant dramatists of his century, whose plays reshaped the American theater and the nation's sense of itself. This astute, deeply researched biography sheds a light on Tennessee Williams's warring family, his guilt, his creative triumphs and failures, his sexuality and numerous affairs, his misreported death, even the shenanigans surrounding his estate.
With vivid cameos of the formative influences in Williams's life—his fierce, belittling father Cornelius; his puritanical, domineering mother Edwina; his demented sister Rose, who was lobotomized at the age of thirty-three; his beloved grandfather, the Reverend Walter Dakin—Tennessee Williams: Mad Pilgrimage of the Flesh is as much a biography of the man who created A Streetcar Named Desire, The Glass Menagerie, and Cat on a Hot Tin Roof as it is a trenchant exploration of Williams's plays and the tortured process of bringing them to stage and screen.
The portrait of Williams himself is unforgettable: a virgin until he was twenty-six, he had serial homosexual affairs thereafter as well as long-time, bruising relationships with Pancho Gonzalez and Frank Merlo. With compassion and verve, Lahr explores how Williams's relationships informed his work and how the resulting success brought turmoil to his personal life.
Lahr captures not just Williams's tempestuous public persona but also his backstage life, where his agent Audrey Wood and the director Elia Kazan play major roles, and Marlon Brando, Anna Magnani, Bette Davis, Maureen Stapleton, Diana Barrymore, and Tallulah Bankhead have scintillating walk-on parts. This is a biography of the highest order: a book about the major American playwright of his time written by the major American drama critic of his time.
Winner of the 2015 Sheridan Morley Prize for Theatre Biography

American Academy of Arts and Letters' Harold D. Vursell Memorial Award

Chicago Tribune Best Books of 2014

USA Today 10 Books We Loved Reading

Washington Post 10 Best Books of 2014
Praise For Tennessee Williams: Mad Pilgrimage of the Flesh…
Offers plenty of backstage anecdotes and high private drama…. But Mr. Lahr, ever the critic, keeps the plays themselves front and center…. The book has already won enthusiastic advance notice…along with blurbs from a kick line of A-list 'theatricals' including Helen Mirren, John Guare and Tony Kushner.
— Jennifer Schuessler - New York Times

Scintillating on the backstage and bedroom dramas and almost intrusively perceptive on the autobiographical nature of Williams' art.
— Charles McNulty - Los Angeles Times

Intricately detailed… gripping.
— Janet Maslin - New York Times

A masterpiece.
— Hilton Als - New Yorker

A crucial contribution to the arguments that should always rage around a man who was one of the greatest American playwrights of his tempestuous century.
— Chris Jones - Chicago Tribune

Raises the curtain on Tennessee Williams.
— Elissa Schappell - Vanity Fair

This is by far the best book ever written about America's greatest playwright. John Lahr, the longtime drama critic for the New Yorker, knows his way around Broadway better than anyone. He is a witty and elegant stylist, a scrupulous researcher, a passionate yet canny advocate… He brings us as close to Williams as we are ever likely to get.

— J.D. McClatchy - Wall Street Journal

There is only one word for this biography: superb.
— Kirkus Reviews, Starred Review

Brilliant… [Lahr's] achievement is not likely to be surpassed.
— Publishers Weekly

Could this be the best theater book I've ever read? It just might be. Tennessee Williams had two great pieces of luck: Elia Kazan to direct his work and now John Lahr to make thrilling sense of his life.
— John Guare, author of Six Degrees of Separation

Splendid beyond words. It would be hard to imagine a more satisfying biography.
— Bill Bryson

Swear-to-god, it's the most original, insightful, thrilling biography I've ever read!
— Elizabeth Ashley

This is a masterpiece about a genius. Only John Lahr, with his perceptions about the theater, about writers, about poetry, and about people could have written this book. What a marvelous read.
— Helen Mirren

Unsurpassable…An eloquent, spellbinding narrative that emerges as an instant classic.
— Ron Chernow, Pulitzer Prize–winning author of Washington: A Life

It is a MAGNIFICENT work. Mesmerizing, illuminating, and heartbreaking.
— André Gregory

Brilliant and seamless. A labor of the profoundest love, and it comes from the heart and mind of one of our greatest theater writers.
— André Bishop, artistic director of Lincoln Center Repertory Theater

A splendid book, one of the finest critical biographies extant.
— Robert Brustein

There's never been an American critic like John Lahr. His writing exalts, honors, and dignifies the profession and, more importantly, the art.
— Tony Kushner

The singular achievement of John Lahr's magisterial book, Tennessee Williams: Mad Pilgrimage of the Flesh is that it's one betwitching writer's journey into the lives—public and private—of another.

— Jeremy Gerard - Deadline Hollywood

Magnificent…one of the best written and most extraordinary biographies I've ever read, in any field.
— Mike Fischer - Milwaukee Journal Sentinel

At once sensitive and magisterial, and it fulfills the ultimate test for a literary biography by convincing you that the works cannot be understood without it. Once you have read it, it becomes part of their meaning.
— John Carey - Sunday Times (UK)

It is a masterpiece on several levels: of synthesis and analysis (an amazing life apprehended afresh, with great learning lightly borne and a strong streak of showbiz savvy; a page-turner that is almost embarrassingly devourable).
— Paul Taylor - The Independent

Scintillating on the backstage and bedroom dramas and almost intrusively perceptive on the autobiographical nature of Williams' art.
— Charles McNulty - Chicago Tribune

Essential reading for anyone who cares about the theater.
— Wendy Smith - Daily Beast

Dazzling… an epic achievement.
— Ann Levin - Associated Press

Fascinating… Lahr gives us a sense of the ebb and flow of Williams's life, exercising a critic's keen eye on the plays, a novelist's gift for characterization, and a historian's awareness of the way a changing American society colored his work… As much a biography of the plays as of the playwright—a book that lets the life illuminate the work and the work illuminate the life.
— Charles Matthews - Washington Post

A work that is scintillating on the backstage and bedroom dramas and almost intrusively perceptive on the autobiographical nature of Williams' art.
— Kevin Nance - Chicago Tribune

Lahr has managed to capture the complex and at times contradictory qualities—the razor wit and gracious Southern charm, the bottomless drive and uncanny capacity for self-destruction—that characterized one of the 20th century's greatest writers.
— Elyse Gardner - USA Today

Excellent… A forceful claim for the playwright's immortality.
— Laura Collins-Hughes - Boston Globe

Lahr's expansive, polished and keenly observed volume is a major work of American theater criticism and biography.
— Gerald Bartell - San Francisco Chronicle

Elegantly written as well as psychologically acute… Lahr balances quotation and interpretation, sympathy and criticism, in this searing and unforgettable portrait of the artist who gave voice to the repressed, the reviled and the restless.
— Brenda Wineapple - Wall Street Journal

[P]rodigiously researched… acute and elegant… Lahr is most superb on the relationship between Williams and the director Eliz Kazan, perhaps his greatest collaborator.
— New York Times Holiday Gift Guide

Witting, moving, ferociously intelligent… essential reading for any theater fan.
— Jocelyn McClurg - USA Today
W. W. Norton & Company, 9780393021240, 784pp.
Publication Date: September 22, 2014
About the Author
National Book Award finalist John Lahr is the author of Tennessee Williams: Mad Pilgrimage of the Flesh, among other books. He was the senior drama critic of The New Yorker for over two decades. He has twice won the George Jean Nathan Award for Dramatic Criticism and is the first critic ever to win a Tony Award (coauthor, Elaine Stritch at Liberty).
or
Not Currently Available for Direct Purchase