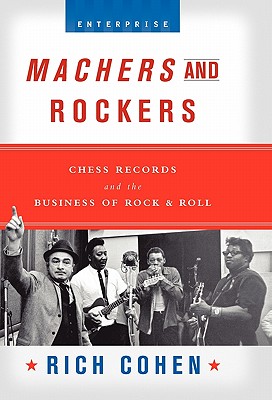 Machers and Rockers
Chess Records and the Business of Rock & Roll
Hardcover

* Individual store prices may vary.
Description
"Rich Cohen is a born storyteller, and this tale of how Muddy Waters and Leonard Chess helped invent Rock & Roll in Chicago in the 1950s is a tough, funny and smart read. It's a big story, told in a big way." —Jann Wenner
A tour-de-force history of Jews, blues, and the birth of a new industry. On the south side of Chicago in the late 1940s, two immigrants, one a Jew born in Russia, the other a black blues singer from Mississippi met and changed the course of musical history. Muddy Waters electrified the blues, and Leonard Chess recorded it. Soon Bo Diddly and Chuck Berry added a dose of pulsating rhythm, and Chess Records captured that, too. Rock & roll had arrived, and an industry was born. In a book as vibrantly and exuberantly written as the music and people it portrays, Rich Cohen tells the engrossing story of how Leonard Chess, with the other record men, made this new sound into a multi-billion-dollar business aggressively acquiring artists, hard-selling distributors, riding the crest of a wave that would crash over a whole generation. Full of absorbing lore and animated by a deep love for popular music,
Machers and Rockers
is a smash hit.
W. W. Norton & Company, 9780393052800, 222pp.
Publication Date: September 17, 2004
About the Author
Rich Cohen is the author of Tough Jews, The Avengers, and Lake Effect. He lives in New York City.