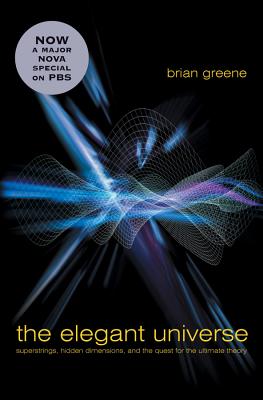 The Elegant Universe
Superstrings, Hidden Dimensions, and the Quest for the Ultimate Theory
Hardcover

* Individual store prices may vary.
Other Editions of This Title:
Digital Audiobook (12/22/2008)
Paperback (10/11/2010)
Paperback (9/2/2004)
Description
A new edition of the New York Times bestseller—now a three-part Nova special: a fascinating and thought-provoking journey through the mysteries of space, time, and matter.
Now with a new preface (not in any other edition) that will review the enormous public reception of the relatively obscure string theory—made possible by this book and an increased number of adherents amongst physicists—
The Elegant Universe
"sets a standard that will be hard to beat" (
New York Times Book Review
). Brian Greene, one of the world's leading string theorists, peels away the layers of mystery surrounding string theory to reveal a universe that consists of eleven dimensions, where the fabric of space tears and repairs itself, and all matter—from the smallest quarks to the most gargantuan supernovas—is generated by the vibrations of microscopically tiny loops of energy.
Today physicists and mathematicians throughout the world are feverishly working on one of the most ambitious theories ever proposed: superstring theory. String theory, as it is often called, is the key to the Unified Field Theory that eluded Einstein for more than thirty years. Finally, the century-old antagonism between the large and the small-General Relativity and Quantum Theory-is resolved. String theory proclaims that all of the wondrous happenings in the universe, from the frantic dancing of subatomic quarks to the majestic swirling of heavenly galaxies, are reflections of one grand physical principle and manifestations of one single entity: microscopically tiny vibrating loops of energy, a billionth of a billionth the size of an atom. In this brilliantly articulated and refreshingly clear book, Greene relates the scientific story and the human struggle behind twentieth-century physics' search for a theory of everything.
Through the masterful use of metaphor and analogy,
The Elegant Universe
makes some of the most sophisticated concepts ever contemplated viscerally accessible and thoroughly entertaining, bringing us closer than ever to understanding how the universe works.
Praise For The Elegant Universe: Superstrings, Hidden Dimensions, and the Quest for the Ultimate Theory…
As rewarding as it gets....A thrilling ride through a lovely landscape.
— Los Angeles Times

Compulsively readable....Greene threatens to do for string theory what Stephen Hawking did for black holes.
— New York

Brian Greene...makes the terribly complex theory of strings accessible to all. He possesses a remarkable gift for using the everyday to illustrate what may be going on in dimensions beyond our feeble human perception.
— Publishers Weekly

Greene does an admirable job of translating a wholly mathematical endeavor into visual terms. Throughout his work, he writes with poetic eloquence and style.
— Marcia Bartusiak - Washington Post Book World

[A] beautifully crafted account of string theory—a theory that appears to be a most promising waystation on the road to an ultimate theory of everything. His book gives a clear, simple, yet masterful account that makes a complex theory very accessible to nonscientists but is also a delightful; read for the professional.
— David M. Lee, professor of physics, Cornell University

Everyone who is curious about the horizons of theoretical physics—past, present, and future—will enjoy this book.
— Edward Witten, Institute for Advanced Study

[A] delightful, lucid introduction to the greatest problem in all of physics, the quest to unify all the laws of nature. Greene does a masterful job in presenting complex materials in a lively, engaging manner. Highly recommended to anyone who has ever gazed at the heavens and wondered, as Einstein did, if God had a choice in making the universe.
— Michio Kaku, author of Hyperspace and Visions

[A] tour-de-force of science writing. Perhaps more than any other popular-level account, this book peels away layers of detail and reveals the stunning essence of cutting-edge physics. With a rare blend of scientific integrity and literary flair, the author takes us on a whirlwind journey to the forefront of the search for the ultimate theory of the universe.
— Shing-Tung Yau, Harvard University; Fields Medalist, winner of the National Medal of Science
W. W. Norton & Company, 9780393058581, 464pp.
Publication Date: October 17, 2003
About the Author
Brian Greene received his undergraduate degree from Harvard University and his doctorate from Oxford University, where he was a Rhodes scholar. He is a professor of physics and mathematics at Columbia University and lives in New York City.