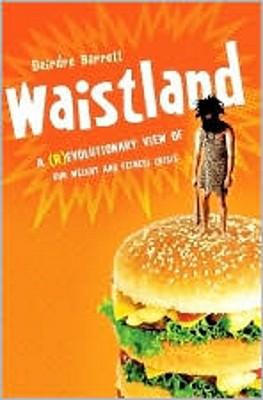 Waistland
A (R)evolutionary View of Our Weight and Fitness Crisis
Hardcover

* Individual store prices may vary.
Description
Harvard psychologist Deirdre Barrett tackles the obesity and fitness crisis from an evolutionary standpoint.
In the modern jungle of burgers, couches, and remote controls, obesity is an enormous and growing epidemic. Weight-loss books and diet gurus urge us to "listen to our bodies," but our instincts are designed for the African savannah, not food courts. The sugary and fatty foods that we, as hunter-gatherers, are programmed to forage used to be hard to come by. Now they're as close as the vending machine down the hall.
Radical changes are necessary and, fortunately, are biologically easier than small or gradual changes in diet. Barrett tells us how to reprogram our bodies, break food addictions, and ignore our attraction to "supernormal stimuli"—artificial creations that appeal to our instincts more than the natural objects they mimic. Barrett delves into scientific research—from animal ethology to evolution—to show the disastrous direction in which our instincts have led us, and how, using our intellect, we can get back on course.
W. W. Norton & Company, 9780393062168, 320pp.
Publication Date: June 17, 2007
About the Author
Deirdre Barrett is an evolutionary psychologist at Harvard Medical School's Behavioral Medicine Program. She is the author of several books, including Waistland, Trauma and Dream, and Supernormal Stimuli. She lives in Cambridge, Massachusetts.
or
Not Currently Available for Direct Purchase