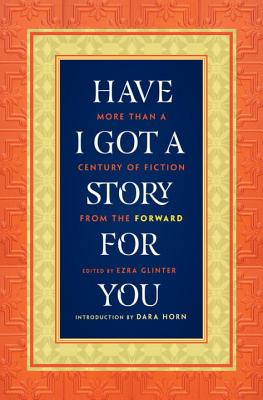 Have I Got a Story for You
More Than a Century of Fiction from The Forward
Hardcover

* Individual store prices may vary.
Description
A Finalist for the 2016 National Jewish Book Award



Forty-two stories from America's greatest Yiddish newspaper, in English for the first time.
The Forward, founded in 1897, is the most renowned Yiddish newspaper in the world. It welcomed generations of immigrants to the United States, brought them news of Europe and the Middle East, and provided them with sundry comforts such as comic strips and noodle kugel recipes.
It also published some of the most acclaimed Yiddish fiction writers of all time: Nobel Prize laureate Isaac Bashevis Singer on justice slyly being served when the governor of Lublin comes to town; celebrated Forward editor Abraham Cahan on how place and luck can change character; and Roshelle Weprinsky, setting her story in Florida, on the rupture between European parents and American children.
Cahan described the newspaper as a "living novel," with good reason. Taken together, these stories reveal the human side of the challenges that faced Jews throughout this time, including immigration, modernization, poverty, assimilation, the two world wars, and changing forms of Jewish identity. These concerns were taken up by a diverse group of writers, from novelists Sholem Asch and Chaim Grade to short-story writers like Lyala Kaufman and Miriam Karpilove.
Ezra Glinter has combed through the archives to find the best stories published during the newspaper's 120-year history, digging up such varied works as wartime novellas, avant-garde fiction, and satirical sketches about immigrant life in New York. Glinter's introductions to the thematic sections and short biographies of the contributors provide insight into the concerns of not only the writers but also their avid readers. The collection has been rendered into English by today's best Yiddish translators, who capture the sound of the authors and the subtleties of nuance and context.
W. W. Norton & Company, 9780393062700, 464pp.
Publication Date: November 1, 2016
About the Author
Ezra Glinter is the Forward's former deputy culture editor and current critic-at-large. He is writing a biography of the Lubavitcher Rebbe for Yale University Press.

Dara Horn is the author of five novels and was one of Granta's Best Young American Novelists. She has taught Jewish literature at Harvard, Sarah Lawrence College, and Yeshiva University. She lives in New Jersey with her family.
or
Not Currently Available for Direct Purchase