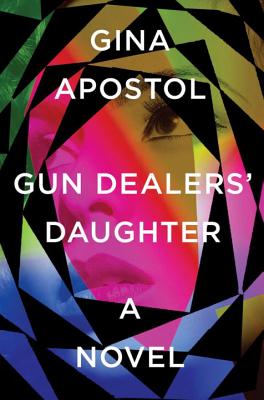 Gun Dealers' Daughter (Hardcover)
A Novel
W. W. Norton & Company, 9780393062946, 304pp.
Publication Date: July 9, 2012
Other Editions of This Title:
Paperback (11/4/2013)
* Individual store prices may vary.
Description
A young woman pieces together her troubled past in this story of rebellion and romance set in the Marcos-era Philippines.
Soon after she leaves home for university in Manila, Soledad Soliman (Sol) transforms herself from bookish rich girl to communist rebel. But is her allegiance to the principles of Mao or to Jed, the comrade she's in love with? Can she really be a part of the movement or is she just a "useful fool," a spoiled brat playing at revolution?
Far from the Philippines, in a mansion overlooking the Hudson River, Sol confesses her youthful indiscretions, unable to get past the fatal act of communist fervor that locked her memory in an endless loop. Rich with wordplay and unforgettable imagery,
Gun Dealers' Daughter
combines the momentum of an amnesiac thriller with the intellectual delights of a Borgesian puzzle. In her American debut, award-winning author Gina Apostol delivers a riveting novel that illuminates the conflicted and little-known history of the Philippines, a country deeply entwined with our own.
About the Author
Gina Apostol won the Philippine National Book Award for her first two novels, Bibliolepsy and The Revolution According to Raymundo Mata. She lives in New York City and western Massachusetts.
Praise For Gun Dealers' Daughter: A Novel…
In her brilliant new novel…Gina Apostol creates one of the most compelling characters in recent fiction….Soledad herself pieces the story together for us—of how bad turned to worse—and whatever one makes of it finally, she holds our attention to the last word with what is almost, yes, a writer's sensibility and style....Apostol has given us a tour de force tale about late 20th century Manila, but Gun Dealers' Daughter is also a book for our times.

— Brian Collins

A stunning and lyrical word-portrait of a 'martial-law baby' whose story of teenage romance and rebellion allows Apostol to braid together a wider set of issues: memory, history, language, nationalism, exile, and revolution.
— Paul Nadal

Rich with emotion, reflection, and fervor, the story takes on an added element of revealing the struggles of Filipinos and women. While the narrative is strong, Apostol's writing style—simple, poetic, and captivating at every point of Soledad's journey—is the real draw….Reminiscent of Toni Morrison's Paradise and Melissa P.'s The Scent of Your Breath, this book will appeal to readers of literary fiction.

— Ashanti L. White

Philippine National Book Award–winner Apostol chronicles a country in political turmoil in her vertiginous American debut. ...Poetically told...Apostol offers an intriguing and significant view of Marcos-era Philippines in this complex and feverish novel.

A daring, fever dream of a novel. Gina Apostol's writing is a substance we couldn't once get here. Savor it, reader, now that you can.
— Alex Gilvarry, author of From the Memoirs of a Non-Enemy Combatant

Gina Apostol's novel is just what literature needed. Fresh, funny, irreverent, it won me over immediately.
— Gary Shteyngart, author of Super Sad True Love Story

There is Didion in the female protagonist with the fractured consciousness and there is Naipaul in the sharp portrait of a third world where revolution battles privilege, but Ms. Apostol performs her own unique alchemy: she fuses poetic language with a thriller story to create a mesmerizing slow-burn of a book.
— Han Ong

In Gun Dealers' Daughter, Gina Apostol probes the hard truths of love, nationhood, and exile with crisp intelligence and subtle humor. Apostol is a fearless, stylish writer of substance and her American debut is long overdue.

— Jessica Hagedorn, author of Toxicology
or
Not Currently Available for Direct Purchase