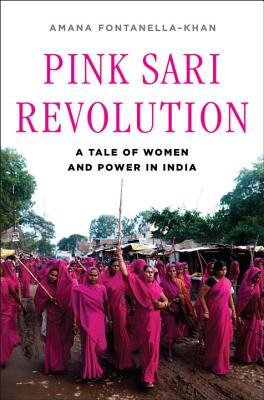 Pink Sari Revolution (Hardcover)
A Tale of Women and Power in India
W. W. Norton & Company, 9780393062977, 304pp.
Publication Date: August 5, 2013
Other Editions of This Title:
Paperback (8/25/2014)
* Individual store prices may vary.
Description
A triumphant portrait of a fiery sisterhood changing the lives of India's women.
In Uttar Pradesh—known as the "badlands" of India—a woman's life is not entirely her own. This is one explanation for how Sheelu, a seventeen-year-old girl, ended up in jail after fleeing her service in the home of a powerful local legislator. In a region plagued by corruption, an incident like this might have gone unnoticed—except that it captured the attention of Sampat Pal, leader of India's infamous Gulabi (Pink) Gang.
Poor and illiterate, married off around the age of twelve, pregnant with her first child at fifteen, and prohibited from attending school, Sampat Pal has risen to become the courageous commander and chief of a women's brigade numbering in the tens of thousands. Uniformed in pink saris and carrying pink batons, they aim to intervene wherever other women are victims of abuse or injustice. Joined in her struggle by Babuji, a sensitive man whose intellectualism complements her innate sense of justice, and by a host of passionate field commanders, Sampat Pal has confronted policemen and gangsters, officiated love marriages, and empowered women to become financially independent.
In a country where women's rights struggle to keep up with rapid modernization, the story of Sampat Pal and her Pink Gang illuminates the thrilling possibilities of female grassroots activism.
About the Author
Amana Fontanella-Khan is the opinion editor at the Guardian's U.S. edition. She was formerly a contributing editor at Vogue India. Her work has appeared in the Guardian, New York Times, Financial Times, Christian Science Monitor, and other publications. She lives in New York City.
Praise For Pink Sari Revolution: A Tale of Women and Power in India…
With her usual deep reporting, humane storytelling, clarity of explanation, and wry humor, Fontanella-Khan brings to life a group of women who have overcome origins and odds most of us can not even imagine to create a movement that might very well change India—and the West's image of what it means to be a woman in the Third World.
— Hanna Rosin, author of The End of Men: And the Rise of Women

Riveting, inspiring, and relevant…. A fast-paced, powerful, and sympathetic portrait of a victim and her subaltern champion in the dusty heart of northern India.
— Meenakshi Venkat

A powerful, engrossing portrait of one woman's fight for female empowerment in India. Sampat Pal's extraordinary courage will inspire you, delight you, and fill you with hope.
— Sonia Faleiro, author of Beautiful Thing: Inside the Secret World of Bombay's Dance Bars

Having interviewed the principals and reviewed available newspaper accounts, Fontanella-Khan brings a novelist's pacing to a timely page-turner that is essentially political; party politics, political corruption, and the wretched treatment of rape victims are her true subjects.

An inspiring profile… highly recommended for all applicable collections.

This beautifully rendered book is a call to women everywhere to take the world into your hands, to rise and resist.
— Eve Ensler, author of The Vagina Monologues and In the Body of the World

A fine tribute to a remarkable woman, a close look at an India that still exists beneath the economic boom of recent years, and a rousing reminder that formidable will can make a difference.

A nuanced humanizing portrait of a teenage-mother-turned-social-crusader who is loud, boastful and blessed with a wicked sense of humor.
— John McMurtrie
or
Not Currently Available for Direct Purchase