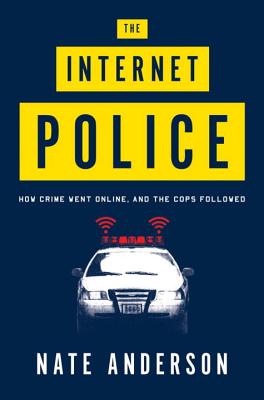 The Internet Police (Hardcover)
How Crime Went Online, and the Cops Followed
W. W. Norton & Company, 9780393062984, 320pp.
Publication Date: August 19, 2013
Other Editions of This Title:
Paperback (8/18/2014)
* Individual store prices may vary.
Description
Chaos and order clash in this riveting exploration of crime and punishment on the Internet.
Once considered a borderless and chaotic virtual landscape, the Internet is now home to the forces of international law and order. It's not just computer hackers and cyber crooks who lurk in the dark corners of the Web—the cops are there, too.
In The Internet Police, Ars Technica editor Nate Anderson takes readers on a behind-the-screens tour of landmark cybercrime cases, revealing how criminals continue to find digital and legal loopholes even as police hurry to cinch them closed.
From the Cleveland man whose "natural male enhancement" pill inadvertently protected the privacy of your e-mail to the Russian spam king who ended up in a Milwaukee jail to the Australian arrest that ultimately led to the breakup of the largest child pornography ring in the United States, Anderson draws on interviews, court documents, and law-enforcement reports to reconstruct accounts of how online policing actually works.
Questions of online crime are as complex and interconnected as the Internet itself. With each episode in The Internet Police, Anderson shows the dark side of online spaces—but also how dystopian a fully "ordered" alternative would be.
About the Author
Nate Anderson is the deputy editor at Ars Technica. His work has been published in The Economist and Foreign Policy. He lives in Chicago, Illinois.
Praise For The Internet Police: How Crime Went Online, and the Cops Followed…
As soon as the Internet turned mainstream, a new breed of criminal appeared. The police, who were trained on Agatha Christie novels, took about a decade to catch up. This entertaining and informative book tells their story.
— Bruce Schneier, author of Liars and Outliers: Enabling the Trust Society Needs to Thrive

Sprightly and entertaining.
— Hiawatha Bray

A brisk and lucid look at high-tech law enforcement.
or
Not Currently Available for Direct Purchase