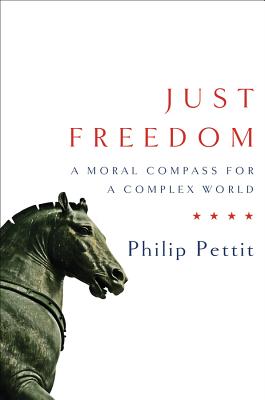 Just Freedom
A Moral Compass for a Complex World (Norton Global Ethics Series)
Hardcover

* Individual store prices may vary.
Description
An esteemed philosopher offers a vision for the central role of one of our most cherished—and controversial—ideas.
In this rigorous distillation of his political philosophy, Philip Pettit, author of the landmark work
Republicanism
, champions a simple standard for our most complex political judgments, offering a challenging ideal that nevertheless holds out a real prospect for social and democratic progress.
Whereas many thinkers define freedom as the absence of interference—we are left alone to do as we please—Pettit demands that in their basic life choices free persons should not even be subject to a power of interference on the part of others. This notion of freedom as non-domination offers a yardstick for gauging social and democratic progress and provides a simple, unifying standard for analyzing our most entangled political quandaries.
Pettit reaffirms the ideal, already present in the Roman Republic, of a free citizenry who enjoy equal status with one another, being individually protected by a law that they together control. After sketching a fresh history of freedom, he turns to the implications of the ideal for social, democratic, and international justice.
Should the state erect systems for delivering mandatory healthcare coverage to its citizens? Should voting be a citizen's only means of influencing political leaders? Are the demands of the United Nations to be heeded when they betray the sovereignty of the state? Pettit shows how these and other questions should be resolved within a civic republican perspective.
Concise and elegant in its rhetoric and ultimately radical in its reimagining of our social arrangements, Just Freedom is neither a theoretical treatise nor a practical manifesto, but rather an ardent attempt to elaborate the demands of freedom and justice in our time.
Praise For Just Freedom: A Moral Compass for a Complex World (Norton Global Ethics Series)…
Only Philip Pettit could offer us a 'moral GPS' that combines philosophical depth with practical advice for decision-making on issues ranging from taxation to social insurance to surveillance. I found Just Freedom to be a lively, compelling, and deeply useful book that opened my eyes to new ways of thinking from both an academic and a policymaking perspective.

— Anne Marie Slaughter, president and CEO, New America Foundation, and Bert G. Kerstetter '66 University Professor Emerita of Politics and International Affairs, Princeton University

Just Freedom is a comprehensive vision of politics by one of the leading thinkers of our time. With great clarity and originality, Philip Pettit develops the idea of republican freedom as non-domination and pays close attention to what it means for institutions. To combine theory and practice in that way is a Herculean achievement.

— Rainer Forst, professor of philosophy and political theory, Goethe University, and winner of the 2012 Leibniz Prize
W. W. Norton & Company, 9780393063974, 288pp.
Publication Date: March 10, 2014
About the Author
Philip Pettit is the L. S. Rockefeller University Professor of Politics and Human Values at Princeton University and Distinguished Professor of Philosophy at the Australian National University. His many books include Republicanism and On the People's Terms.
or
Not Currently Available for Direct Purchase