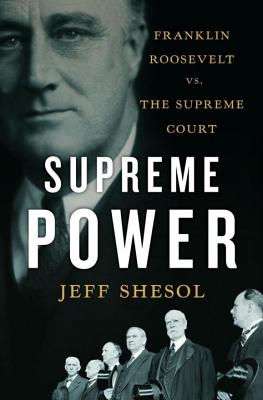 Supreme Power
Franklin Roosevelt vs. the Supreme Court
Hardcover

* Individual store prices may vary.
Other Editions of This Title:
Digital Audiobook (3/28/2010)
Paperback (3/14/2011)
MP3 CD (3/29/2010)
Compact Disc (3/29/2010)
Compact Disc (3/29/2010)
Compact Disc (3/29/2010)
MP3 CD (3/29/2010)
Description
In the years before World War II, Franklin Roosevelt's fiercest, most unyielding opponent was neither a foreign power nor "fear itself." It was the U.S. Supreme Court.
Beginning in 1935, in a series of devastating decisions, the Supreme Court's conservative majority left much of FDR's agenda in ruins. The pillars of the New Deal fell in short succession. It was not just the New Deal, but democracy itself, that stood on trial. In February 1937, Roosevelt struck back with an audacious plan to expand the Court to fifteen justices—and to "pack" the new seats with liberals who shared his belief in a "living" Constitution.
The ensuing fight was a firestorm that engulfed the White House, the Court, Congress, and the nation. The final verdict was a shock. It dealt FDR the biggest setback of his political life, split the Democratic party, and set the stage for a future era of Republican dominance. Yet the battle also transformed America's political and constitutional landscape, hastening the nation's march into the modern world.
This brilliant work of history unfolds like a thriller, with vivid characters and unexpected twists. Providing new evidence and fresh insight, Jeff Shesol shows why understanding the Court fight is essential to understanding the presidency, personality, and legacy of FDR—and to understanding America at a crossroads in its history.
Praise For Supreme Power: Franklin Roosevelt vs. the Supreme Court…
Supreme Power is by far the most detailed—and most riveting—account of this extraordinary event.... an impressive and engaging book—an excellent work of narrative history. It is deeply researched and beautifully written.

— The New York Times Book Review

Starred Review. With insight and more than occasional humor, Shesol covers all aspects of the controversy, deftly explaining the issues at stake in a variety of legal opinions and shrewdly analyzing the intra-Court dynamics.
— Kirkus Reviews

[T]imely, for the light it casts on the politics of our current economic situation and on the situation itself. The book is also splendid to read. It will fascinate anyone who is interested in Roosevelt, the New Deal, the 1930s, Congress, the presidency, the Great Depression, judges, the Supreme Court, or constitutional law.
— The New Republic

Once in a generation a groundbreaking book comes along to provide a major reinterpretation of a familiar historical event. Shesol tells the story of FDR's court packing plan as it has never been told before. This is a stunning work of history.
— Doris Kearns Goodwin, author of No Ordinary Time and Team of Rivals

Written with a novelist's eye, a historian's care, and a blogger's energy, Jeff Shesol's Supreme Power is a fascinating reconstruction of one of the great political and legal battles of the twentieth century. The story of FDR's court-packing plan is a citizen's education in the twenty-first.

— Jeffrey Toobin, author of The Nine

Supreme Power is an extraordinary book that rings with relevance for our time. One of the most eloquent historians of his generation, Jeff Shesol has a deep understanding of the presidency, and the interplay of politics, personalities, and principles, all of which he brings to life in this rich, remarkable book. Full of surprises and new insights—each rendered in clear and confident prose – this book is about more than FDR's plan to pack the Court. It's about America's enduring struggle to reconcile our founders' ideals with conflicting challenges in our constant pursuit to build a more perfect union.

— President Bill Clinton
W. W. Norton & Company, 9780393064742, 656pp.
Publication Date: March 22, 2010
About the Author
Jeff Shesol is the author of Mercury Rising, most recently, as well as Supreme Power: Franklin Roosevelt vs. the Supreme Court and Mutual Contempt: Lyndon Johnson, Robert Kennedy, and the Feud That Defined a Decade, both selected as New York Times Notable Books of the Year. He is a former speechwriter for President Bill Clinton and is a founding partner of West Wing Writers. A Rhodes Scholar, he holds degrees in history from Oxford University and Brown University and is a frequent contributor to the New York Times, the Washington Post, and The New Yorker News Desk.
or
Not Currently Available for Direct Purchase