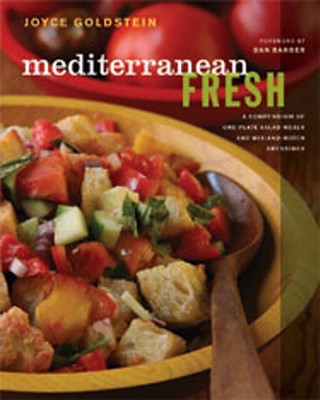 Mediterranean Fresh: A Compendium of One-Plate Salad Meals and Mix-And-Match Dressings (Hardcover)
A Compendium of One-Plate Salad Meals and Mix-And-Match Dressings
W. W. Norton & Company, 9780393065008, 351pp.
Publication Date: May 1, 2008
Description
With thirty versatile dressings, you'll expand your salad horizons. Just by changing the dressing and garnish, you can make a chopped salad Moroccan, Spanish, or Turkish. Roasted peppers can be Italian with anchovies and olives or spicy with a Tunisian harissa dressing. Beets and greens can move to France with walnut vinaigrette or to the Middle East with tahini dressing. Even a carrot can become exotic with a Moroccan citrus-cinnamon dressing Joyce shows you the art of dressing a salad and how to use dressings as marinades, spreads, dips, and finishing sauces. Along the way you'll learn how to taste, balance flavors, and develop your palate.
Advertisement