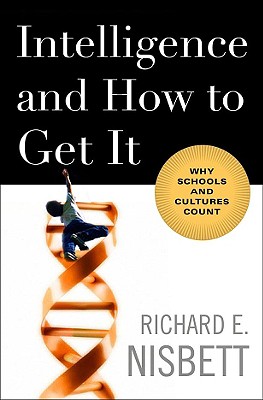 Intelligence and How to Get It (Hardcover)
Why Schools and Cultures Count
W. W. Norton & Company, 9780393065053, 320pp.
Publication Date: February 2, 2009
Other Editions of This Title:
Paperback (2/8/2010)
* Individual store prices may vary.
Description
A bold refutation of the belief that genes determine intelligence.
Who are smarter, Asians or Westerners? Are there genetic explanations for racial differences in test scores? What makes some nationalities excel in engineering and others in music? Will math and science remain a largely male preserve. From the damning research of
The Bell Curve
to the more recent controversy surrounding geneticist James Watson's statements, one factor has been consistently left out of the equation: culture. In the tradition of
The Mismeasure of Man
by Stephen Jay Gould, world-class social psychologist Richard E. Nisbett takes on the idea of intelligence as something that is biologically determined and impervious to culture--with vast implications for the role of education as it relates to social and economic development.
Intelligence and How to Get It
asserts that intellect is not primarily genetic but is principally determined by societal influences. Nisbett's commanding argument, superb marshaling of evidence, and fearless discussions of the controversial carve out new and exciting terrain in this hotly debated field.
About the Author
Richard E. Nisbett is Theodore M. Newcomb Distinguished University Professor of Psychology at the University of Michigan and Research Professor at Michigan's Institute for Social Research. He has taught courses in social psychology, cultural psychology, cognitive psychology, and evolutionary psychology. His research focuses on how people from different cultures think, perceive, feel, and act in different ways. He is the recipient of the Distinguished Scientific Contribution Award of the American Psychological Association and the William James Fellow Award of the American Psychological Society and is a member of the National Academy of Sciences and the American Academy of Arts and Sciences.
Praise For Intelligence and How to Get It: Why Schools and Cultures Count…
A devastating and persuasive refutation of all those who believe intellectual ability is fixed at birth. Few Americans have done as much to deepen our understanding of what it means to be human. (Malcolm Gladwell, author of The Tipping Point and Blink)


[Nisbett's] biggest message, largely unspoken, is one of persistence and hope. If all kids are capable of learning under the right circumstances, parents and teachers should never give up on children who appear to be low performers. Everyone has the inherent ability to be smart. (Associated Press, Dinesh Ramde)

If intelligence were deeply encoded in our genes, that would lead to the depressing conclusion that neither schooling nor antipoverty programs can accomplish much. Yet while this view of I.Q. as overwhelmingly inherited has been widely held, the evidence is growing that it is, at a practical level, profoundly wrong. Richard Nisbett, a professor of psychology at the University of Michigan, has just demolished this view in a superb new book, Intelligence and How to Get It, which also offers terrific advice for addressing poverty and inequality in America.... Offers terrific advice for addressing poverty.... [and] provides suggestions for transforming your own urchins into geniuses. (Nicholas D. Kristof, The New York Times)

or
Not Currently Available for Direct Purchase