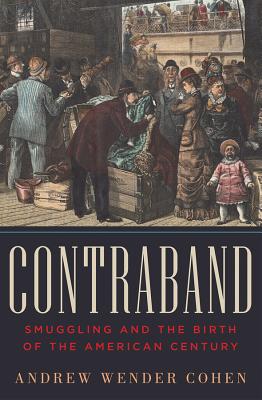 Contraband
Smuggling and the Birth of the American Century
Hardcover

* Individual store prices may vary.
Description
How skirting the law once defined America's relation to the world.
In the frigid winter of 1875, Charles L. Lawrence made international headlines when he was arrested for smuggling silk worth $60 million into the United States. An intimate of Boss Tweed, gloriously dubbed "The Prince of Smugglers," and the head of a network spanning four continents and lasting half a decade, Lawrence scandalized a nation whose founders themselves had once dabbled in contraband.
Since the Revolution itself, smuggling had tested the patriotism of the American people. Distrusting foreign goods, Congress instituted high tariffs on most imports. Protecting the nation was the custom house, which waged a "war on smuggling," inspecting every traveler for illicitly imported silk, opium, tobacco, sugar, diamonds, and art. The Civil War's blockade of the Confederacy heightened the obsession with contraband, but smuggling entered its prime during the Gilded Age, when characters like assassin Louis Bieral, economist "The Parsee Merchant," Congressman Ben Butler, and actress Rose Eytinge tempted consumers with illicit foreign luxuries. Only as the United States became a global power with World War I did smuggling lose its scurvy romance.
Meticulously researched, Contraband explores the history of smuggling to illuminate the broader history of the United States, its power, its politics, and its culture.
Praise For Contraband: Smuggling and the Birth of the American Century…
[A] well-researched and well-written account of the underside of America's growth as an economic power.
— Publishers Weekly

[Cohen's] research is meticulous, and he has an obvious passion for the subject…. Cohen's themes will resonate for modern readers and, like the Michigan customs inspectors, he has "a good deal of fun."
— Daniel Stashower - Washington Post

Featuring a host of colorful characters, Contraband is a fascinating and revealing book, which makes a compelling case that smuggling, and efforts to suppress it, offer a window into broader historical issues, including the American state, political machines, and economic enterprise.

— Eric Foner, author of Gateway to Freedom: The Hidden History of the Underground Railroad

Widely researched and lucidly written, these episodes of rogues and their government-appointed opponents will enchant nonspecialists, while the larger issues of power and enterprise in America will attract academics.
— Library Journal

Andrew Wender Cohen has revolutionized our understanding of nineteenth-century America, putting smugglers and rogues, custom-house workers and naval gunboat officers, Jews and Gentiles, Confederates and Unionists at the heart of one of the liveliest and most consequential histories I have read in years.
— Nelson Lichtenstein, author of A Contest of Ideas: Capital, Politics, and Labor

Cohen not only uncovers a heretofore hidden history, but anchors this invisible world in the central events of the American past.
— Timothy Gilfoyle, author of The Pickpocket's Tale

Andrew W. Cohen has written that rarest of books: a gripping narrative filled with colorful characters whose exploits will cause readers to rethink their understanding of the American past. Deeply researched, powerfully argued, and beautifully written, Contraband is at once a page-turner and an important reframing of the nation's history.

— Ari Kelman, author of A Misplaced Massacre: Struggling over the Memory of Sand Creek

Andrew Cohen smuggles a rich and exotic cargo into this tale of American taxation and its discontents. Forget tea parties and the IRS; think rum, silk, opium, erotica, rakish con men, and corrupt revenuers. Highly readable and heroically researched, Contraband gives us the hidden prehistory of our ongoing war over how to fill the public coffer.

— Tony Horwitz, author of Midnight Rising

[A]n informative and lively account of smuggling, stocked with a boatload of rascals, rogues and revenuers…. Cohen has certainly succeeded in smuggling into his charming narrative fresh ways of thinking about the motivations behind and the implications of taxes and tax evasion for our economic and our political culture.
— Glenn C. Altschuler - Minnesota Star-Tribune
W. W. Norton & Company, 9780393065336, 384pp.
Publication Date: August 24, 2015
About the Author
Andrew Wender Cohen is associate professor of history at Syracuse University. He lives with his family in central New York.
or
Not Currently Available for Direct Purchase