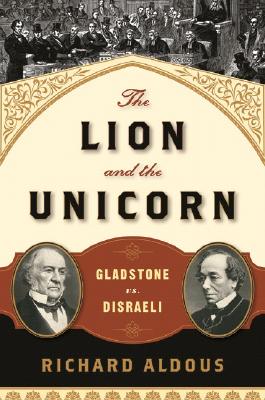 The Lion and the Unicorn
Gladstone vs. Disraeli
Hardcover

* Individual store prices may vary.
Other Editions of This Title:
Paperback (9/17/2007)
Description
The vicious political struggle that electrified Victorian society, brilliantly re-created for a new generation.
William Gladstone and Benjamin Disraeli were the fiercest political rivals of the nineteenth century. Their intense mutual hatred was both ideologically driven and deeply personal. Their vitriolic duels, carried out over decades, lend profound insight into the social and political currents that dominated Victorian England. To Disraeli—a legendary dandy descended from Sephardic Jews—his antagonist was an "unprincipled maniac" characterized by an "extraordinary mixture of envy, vindictiveness, hypocrisy, and superstition." For the conservative aristocrat Gladstone, his rival was "the Grand Corrupter," whose destruction he plotted "day and night, week by week, month by month." In the tradition of Roy Jenkins and A. N. Wilson, Richard Aldous has written an outstanding political biography, giving us the first dual portrait of this intense and momentous rivalry. Aldous's vivid narrative style—by turns powerful, witty, and stirring—brings new life to the Gladstone and Disraeli story and confirms a perennial truth: in politics, everything is personal.
W. W. Norton & Company, 9780393065701, 368pp.
Publication Date: September 17, 2007
About the Author
Richard Aldous is a professor of history at Bard College, where he holds the Eugene Meyer Chair. He is the author and editor of eleven books and is a contributor to television and radio on both sides of the Atlantic. Aldous's writing appears regularly in the Wall Street Journal, the New York Times Book Review, and The American Interest, where he is a contributing editor. He lives in Red Hook, New York.
or
Not Currently Available for Direct Purchase