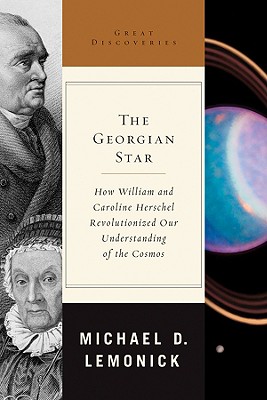 The Georgian Star: How William and Caroline Herschel Revolutionized Our Understanding of the Cosmos (Hardcover)
How William and Caroline Herschel Revolutionized Our Understanding of the Cosmos
W. W. Norton & Company, 9780393065749, 199pp.
Publication Date: November 17, 2008
* Individual store prices may vary.
or
Not Currently Available for Direct Purchase
Description
Trained as a musician, amateur scientist William Herschel found international fame after discovering the planet Uranus in 1781. Though he is still best known for this finding, his partnership with his sister Caroline yielded groundbreaking work, including techniques that remain in use today. The duo pioneered comprehensive surveys of the night sky, carefully categorizing every visible object in the void. Caroline wrote an influential catalogue of nebulae, and William discovered infrared radiation. Celebrated science writer Michael Lemonick guides readers through the depths of the solar system and into his protagonists' private lives: William developed bizarre theories about inhabitants of the sun; he procured an unheard-of salary for Caroline even while haggling with King George III over the funding for an enormous, forty-foot telescope; the siblings feuded over William's marriage and eventually reconciled. Erudite and accessible, The Georgian Star is a lively portrait of the pair who invented modern astronomy.
Advertisement