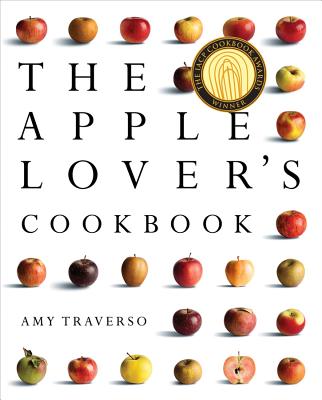 The Apple Lover's Cookbook
Hardcover

* Individual store prices may vary.
Other Editions of This Title:
Hardcover (9/1/2020)
Description
The most complete cookbook for enjoying and cooking with apples.
The Apple Lover's Cookbook
celebrates the beauty of apples in all their delicious variety, taking you from the orchard to the kitchen with recipes both sweet (like Apple-Stuffed Biscuit Buns and Blue Ribbon Deep-Dish Apple Pie) and savory (like Cider-Brined Turkey and Apple Squash Gratin). It offers a full-color guide to fifty-nine apple varieties, with descriptions of their flavor, history, and, most important, how to use them in the kitchen. Amy Traverso also takes you around the country to meet farmers, cider makers, and apple enthusiasts.
The one hundred recipes run the spectrum from cozy crisps and cobblers to adventurous fare like Cider-Braised Brisket or Apple-Gingersnap Ice Cream. In addition, Amy organizes apple varieties into cooking categories so that it's easy to choose the right fruit for any recipe. You'll know to use tart Northern Spy in your pies and Fuji in delicate cakes.
The Apple Lover's Cookbook
is the ultimate apple companion.
Praise For The Apple Lover's Cookbook…
Traverso provides a compelling history of the apple throughout civilization and a short overview on apple genetics before launching into a detailed primer of 56 different varieties. ...In sum total, this is a solid compendium that is as satisfying and reliable as its namesake fruit.
— Publishers Weekly

The handsome Apple Lover's Cookbook has a section covering 59 kinds of apples with a description and color portrait of each. ...The heart of the book gives savory and sweet recipes, including an adaptation of Michael Field's chicken liver pâté with apple. And the challah baked with diced apples and raisins falls into the category of 'Why didn't I think of that?'

— Florence Fabricant - New York Times

When I said I wish there were a book like this for every single fruit and vegetable, I meant it. The Apple Lover's Cookbook is one resource you'll keep coming back to for years – both for its appealing, timeless recipes and for its invaluable, exclusive apple information.

— Pam Anderson - Christian Science Monitor

From savory to sweet, these recipes span gamut and show just how versatile the apple is. With The Apple Lover's Cookbook, Traverso has written an indispensible book that does what all cookbooks should: shed light and inspire.

— Esther Sung - Epicurious

After almost five years of researching, developing and testing recipes food writer Amy Traverso knows her apples. ...The result is The Apple Lover's Cookbook, a 300-page near-encyclopedia about the fruit that surely holds a special place in the American psyche.

— Ros Krasny - Reuters

How many apple varieties can you name off the top of your head? Six? Ten? Traverso lays out a guide to 59 apples... If she were to stop there, fine. But she also weaves in stories of apple farmers who've garnered a following by what and how they're growing, and a meeting with a researcher at Cornell University's famed apple breeding program who might make you think differently about genetically engineered apples. She offers storage tips, crust-making tips, apple sizes and equivalent measurements, a source guide to apple products and cider tasting notes.
— Janet Rausa Fuller - Chicago Sun-Times

...an extensive primer on apple varieties, from Ambrosia to Zabergau Reinette. ...For each, Traverso gives its category ('tender-sweet', 'firm-tart' etc.), best use, origin, availability, season, appearance, taste and texture. As if reading that didn't already make you an expert, the book has notes on how to tell if the fruit is fresh and how to peel one like a pro. Can't do it in one fell swoop like Grandma? Traverso has a section on the best tools of the trade, too.
— Julia Bainbridge - Bon Appetit
W. W. Norton & Company, 9780393065992, 304pp.
Publication Date: September 26, 2011
About the Author
A lifelong apple lover, Amy Traverso is the senior food editor at Yankee magazine and cohost of public television's Weekends with Yankee. Previously, she was food editor at Boston magazine and an associate food editor at Sunset magazine. She has appeared on Hallmark Home & Family, The Martha Stewart Show, Throwdown with Bobby Flay, and Gordon Ramsay's Kitchen Nightmares. She lives in Boston, Massachusetts.