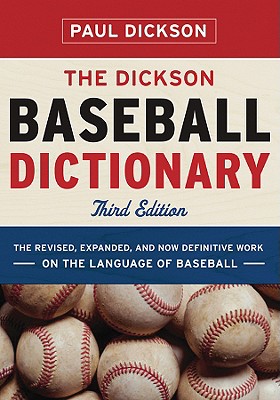 The Dickson Baseball Dictionary (Hardcover)
W. W. Norton & Company, 9780393066814, 974pp.
Publication Date: February 1, 2009
Other Editions of This Title:
Paperback (6/13/2011)
* Individual store prices may vary.
Description

Drawing on dozens of nineteenth- and early twentieth-century periodicals, as well as contemporary sources, Paul Dickson's brilliant, illuminating definitions trace the earliest appearances of our most treasured baseball expressions ("tearin' up the pea patch," "can o' corn," "catbird seat," etc.). Termed "baseball's Webster," Dickson has spent nearly a decade painstakingly revising and writing new definitions, for words both well-known and obscure, including those introduced by Latin-American ballplayers, and statistical expressions relating to fantasy baseball and the SABR/Moneyball era. More than 200 photos throughout the book--many rare and previously unpublished--illuminate various historical and contemporary terms.

Because of its deep and broad coverage, its authoritativeness and its rich and colorful descriptions, The Dickson Baseball Dictionary will prove indispensable to baseball fans and word lovers alike.