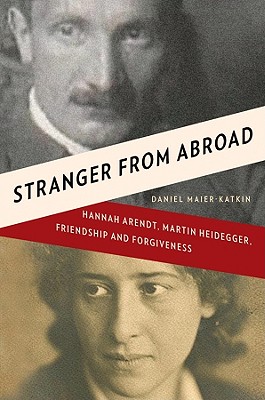 Stranger from Abroad (Hardcover)
Hannah Arendt, Martin Heidegger, Friendship and Forgiveness
W. W. Norton & Company, 9780393068337, 384pp.
Publication Date: March 1, 2010
* Individual store prices may vary.
Description

Hannah Arendt, his brilliant, beautiful student and young lover, sought to enable a decent society of human beings in relation to one other. She was courageous in the time of crisis. Years later, she was even able to meet Heidegger once again on common ground and to find in his past behavior an insight into Nazism that would influence her reflections on "the banality of evil"--a concept that remains bitterly controversial and profoundly influential to this day.

But how could Arendt have renewed her friendship with Heidegger? And how has this relationship affected her reputation as a cultural critic? In Stranger from Abroad, Daniel Maier-Katkin offers a compassionate portrait that provides much-needed insight into this relationship.

Maier-Katkin creates a detailed and riveting portrait of Arendt's rich intellectual and emotional life, shedding light on the unique bond she shared with her second husband, Heinrich Bl cher, and on her friendships with Mary McCarthy, W. H. Auden, Karl Jaspers, and Randall Jarrell--all fascinating figures in their own right. An elegant, accessible introduction to Arendt's life and work, Stranger from Abroad makes a powerful and hopeful case for the lasting relevance of Arendt's thought.
or
Not Currently Available for Direct Purchase