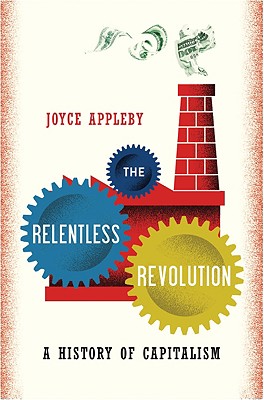 The Relentless Revolution (Hardcover)
A History of Capitalism
W. W. Norton & Company, 9780393068948, 512pp.
Publication Date: January 4, 2010
Other Editions of This Title:
Paperback (3/7/2011)
* Individual store prices may vary.
Description
The unlikely development of a potent historical force, told with grace, insight, and authority by one of our best historians.
With its deep roots and global scope, the capitalist system provides the framework for our lives. It is a framework of constant change, sometimes measured and predictable, sometimes drastic and out of control. Yet what is now ubiquitous was not always so. Capitalism took shape centuries ago, starting with a handful of isolated changes in farming, trade, and manufacturing, clustered in early-modern England. Astute observers began to notice these changes and consider their effects. Those in power began to harness these new practices to the state, enhancing both. A system generating wealth, power, and new ideas arose to reshape societies in a constant surge of change.
The centuries-long history of capitalism is rich and eventful. Approaching capitalism as a culture, as important for its ideas and values as for its inventions and systems, Joyce Appleby gives us a fascinating introduction to this most potent creation of mankind from its origins to now.
About the Author
Joyce Appleby (1929—2016) was a professor of history emerita at UCLA, the author of Shores of Knowledge, The Relentless Revolution, and the coauthor of Telling the Truth about History, among many other works. A former president of the American History Association, she was awarded the 2009 Arthur M. Schlesinger, Jr. Prize for distinguished writing in American history from the Society of American Historians.
Praise For The Relentless Revolution: A History of Capitalism…
Whether masterfully discussing the significance of agricultural progress that made capitalism possible, or touching lightly on the impact of Amazon and e-mail, Appleby offers consistently illuminating commentary. A useful introduction to a vast, complex topic.

Appleby's engaging narrative spans from capitalism's humble origins through industrialization, world war, depression, and into the present era of global recession, government bailouts, and the world markets. More comprehensive than Niall Ferguson's The Ascent of Money, this sound, timely study will surely find a receptive audience with both academics and those concerned with the state of the modern financial world.

or
Not Currently Available for Direct Purchase