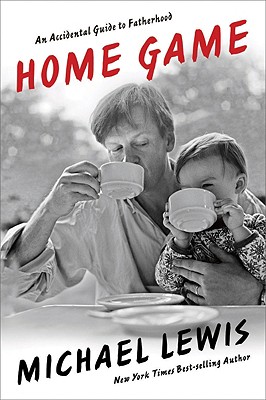 Home Game
An Accidental Guide to Fatherhood
Hardcover

* Individual store prices may vary.
Other Editions of This Title:
Paperback (6/7/2010)
MP3 CD (5/1/2009)
MP3 CD (1/6/2015)
MP3 CD (9/3/2013)
Compact Disc (5/1/2009)
Compact Disc (9/3/2013)
Compact Disc (5/1/2009)
Compact Disc, Abridged, Abridged (4/1/2011)
MP3 CD (5/1/2009)
MP3 CD (4/1/2011)
Description
A book that explores the difference between the idea of fatherhood and a man's actual experience of it.
When he became a father, Michael Lewis found himself expected to feel things that he didn't feel, and to do things that he couldn't see the point of doing. At first this made him feel guilty, until he realized that all around him fathers were pretending to do one thing, to feel one way, when in fact they felt and did all sorts of things, then engaged in what amounted to an extended cover-up.
Lewis decided to keep a written record of what actually happened immediately after the birth of each of his three children. This book is that record. But it is also something else: maybe the funniest, most unsparing account of ordinary daily household life ever recorded from the point of view of the man inside. The remarkable thing about this story isn't that Lewis is so unusual. It's that he is so typical. The only wonder is that his wife has allowed him to publish it.
Praise For Home Game: An Accidental Guide to Fatherhood…
Unabashedly frank, hilarious and sweetly sentimental....a somewhat daring and in many ways groundbreaking book about what it's like to be a father in modern America....intensely honest.
— Amy Scribner

It's an engaging journal that selectively details how Dad grew up as well....Brief, clever and frank—a good gift for Father's Day.

He captures serious issues with a warmth that shows he's a pretty good dad after all.
— Kyle Smith

His reflections capture both the unease and the excitement that fatherhood brings.

Lewis is an insouciant raconteur who can spin out even standard dad stories (about, say, sending a kid to school dressed outlandishly) without making them sound stale.
— Ann Hulbert

Lewis's style is funny, frank, and engaging, and he gets a lot of comic mileage telling tales at his own expense....it's refreshing to hear a dad describe so vividly the uglier aspects of the job.
— Christopher Noxon

Lewis writes memorable, insightful, yet simple and brisk sentences as easily as the rest of us breathe.
— Marc Tracy

Home Game, which was adapted from a series of Slate essays and is an accordingly zippy read, is hilarious but painfully candid, one man's uneasy reckoning with the potentially devastating consequences of parenting. It's unsparing, but Lewis is as honest with himself as he's been with his subjects. Grade: A-.

W. W. Norton & Company, 9780393069013, 192pp.
Publication Date: May 18, 2009
About the Author
Michael Lewis is the best-selling author of Liar's Poker, Moneyball, The Blind Side, The Big Short, and The Undoing Project. He lives in Berkeley, California, with his wife and three children.