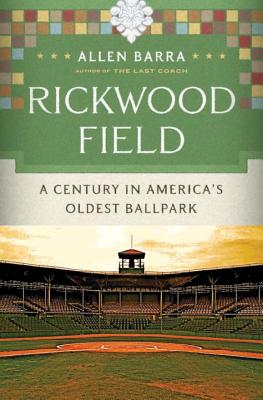 Rickwood Field (Hardcover)
A Century in America's Oldest Ballpark
W. W. Norton & Company, 9780393069334, 367pp.
Publication Date: July 26, 2010
Description
Allen Barra has journeyed to his native Alabama to capture the glories of a century of baseball lore. In chronicling Rickwood Field's history, he also tells of segregated baseball and the legendary Negro Leagues while summoning the ghosts of the players themselves --Ty Cobb, Honus Wagner, Babe Ruth, Satchel Paige, Josh Gibson, Ted Willians, and Willie Mays -- who still haunt baseball's oldest Cathedral. But Rickwood Field, a place where the Ku Klux Klan once held rallies, has now become a symbol of hope and triumph, a stadium that reflects the evolution of a city where baseball was, for decades, virtually the sole connecting point between blacks and whites While other fabled stadiums have yielded to the wrecker's ball, baseball's Garden of Eden seems increasingly invulnerable to the ravages of time. Indeed, the manually operated scoreboard still uses numbers painted on metal sheets, and on the right field wall, the Burma Shave sign hangs just as it did when the legendary Black Barons called the stadium their own. Not surprisingly, there is no slick or artificial turf here, only grass - and it's been trodden by the cleats of greats from Shoeless Joe Jackson to Reggie Jackson. Drawing on extensive interviews, best-selling author Barra evokes a southern city once rife with racial tension where a tattered ballpark was, and resplendently still is, a rare beacon of hope. Both a relic of America's past and a guidepost for baseball's future, Rickwood Field follows the evolution of a nation and its pastime through our country's oldest active ballpark.
Advertisement