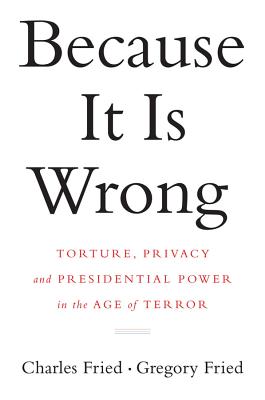 Because It Is Wrong: Torture, Privacy and Presidential Power in the Age of Terror (Hardcover)
Torture, Privacy and Presidential Power in the Age of Terror
W. W. Norton & Company, 9780393069518, 222pp.
Publication Date: September 6, 2010
* Individual store prices may vary.
or
Not Currently Available for Direct Purchase
Description
Can torture ever be justified? When is eavesdropping acceptable? Should a kidnapper be waterboarded to reveal where his victim has been hidden? Ever since 9/11 there has been an intense debate about the government's application of torture and the pervasive use of eavesdropping and data mining in order to thwart acts of terrorism. To create this seminal statement on torture and surveillance, Charles Fried and Gregory Fried have measured current controversies against the philosophies of Aristotle, Locke, Kant, and Machiavelli, and against the historic decisions, large and small, of Jefferson, Lincoln, and Pope Sixtus V, among many others. Because It Is Wrong not only discusses the behavior and justifications of Bush government officials but also examines more broadly what should be done when high officials have broken moral and legal norms in an attempt to protect us. This is a moral and philosophical meditation on some of the most urgent issues of our time.
Coverage from NPR
Advertisement