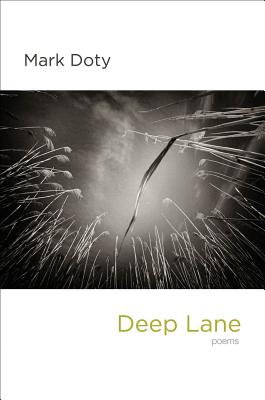 Deep Lane (Hardcover)
Poems
W. W. Norton & Company, 9780393070231, 96pp.
Publication Date: April 6, 2015
Other Editions of This Title:
Paperback (10/11/2016)
* Individual store prices may vary.
Description
"Elegant, plain-spoken, and unflinching, Mark Doty's poems . . . invite us to share their ferocious compassion."—National Book Award, judges' citation for Fire to Fire
Mark Doty's poetry has long been celebrated for its risk and candor, an ability to find transcendent beauty even in the mundane and grievous, an unflinching eye that—as Philip Levine says—"looks away from nothing." In the poems of Deep Lane the stakes are higher: there is more to lose than ever before, and there is more for us to gain. "Pure appetite," he writes ironically early in the collection, "I wouldn't know anything about that." And the following poem answers:
Down there the little star-nosed engine of desire
at work all night, secretive: in the morning
a new line running across the wet grass, near the surface,
like a vein. Don't you wish the road of excess
led to the palace of wisdom, wouldn't that be nice?
Deep Lane is a book of descents: into the earth beneath the garden, into the dark substrata of a life. But these poems seek repair, finally, through the possibilities that sustain the speaker aboveground: gardens and animals, the pleasure of seeing, the world tuned by the word. Time and again, an image of immolation and sacrifice is undercut by the fierce fortitude of nature: nature that is not just a solace but a potent antidote and cure. Ranging from agony to rapture, from great depths to hard-won heights, these are poems of grace and nobility.
About the Author
Mark Doty is the author of more than ten volumes of poetry and three memoirs. His many honors include the National Book Award, National Book Critics Circle Award, the PEN/Martha Albrand Award for First Nonfiction, the Los Angeles Times Book Prize, a Whiting Writers' Award, a Lila Wallace–Reader's Digest Writers' Award, and, in the UK, the T. S. Eliot Prize. He is a professor at Rutgers University and lives in New York City.
Praise For Deep Lane: Poems…
Doty remains elegiac and continues to attend to beauty. He also does some of his best work yet as a nature poet.

This collection will win awards.
— Maggie Galehouse

Doty is able to weave philosophical inquiry, personal anecdote, and awe at people and nature into a voice that is simultaneously warm and tinged with a useful measure of doubt.
— Craig Morgan Teicher

His best work yet…astute, contemplative and deeply moving.
— Elizabeth Lund

Mark Doty writes with absolute exactitude, with one eye on the ideal or absolute and one on the real; the ghost of Walt Whitman on one hand, and a laundromat on 16th Street in New York on the other. There is not a finer, more delicate, more sublime poet writing today in the English language. It's a poet's job to show us what we knew but never saw before; and it's a poet's job to tell us over and over what love is. Doty is this poet.
— Gerald Stern

One of the things that has been constant about Mark Doty's work, poetry and prose, is his intense search for the exact word or phrase, of whatever issue, which leads him (and us) into the very furnace of meaning within the human story. It might be the color of the inside of a shell of a mussel found on the beach; it might be the recognition that the heart that feels close to dying might not die, if the will can be fed just a little.
— Mary Oliver

Mark Doty's most representative poems are tender, intimate, open, and true. They have their roots in the essential dailiness of this life, with its ritual round of small duties and encounters, and they open out . . . into a world of embracing sympathy, camaraderie, and understanding. With his clarity of vision and great heart, Doty stands among us an emblematic and shining presence.
— Stanley Kunitz

When Mark Doty begins one of his extraordinary Deep Lane poems with 'Into Eden came the ticks,' not only the ticks of the natural world but the ticking of the underworld come to mind. Doty has never ceased searching everywhere for truth and awe, two words that constitute a definition of revelation. The perfect avatar for this brilliant book's revelatory wonders may well be 'a deer's head floating in the bay, wreathed with flowers.' Deep Lane is earthly, unearthly, and even when brutal, beautiful. These are sensational new poems.

— Terrance Hayes
or
Not Currently Available for Direct Purchase