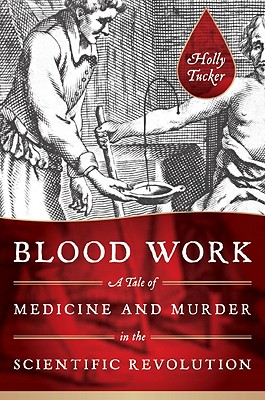 Blood Work (Hardcover)
A Tale of Medicine and Murder in the Scientific Revolution
W. W. Norton & Company, 9780393070552, 304pp.
Publication Date: March 21, 2011
Other Editions of This Title:
Paperback (5/21/2012)
* Individual store prices may vary.
Description
A sharp-eyed exposé of the deadly politics, murderous plots, and cutthroat rivalries behind the first blood transfusions in seventeenth-century Europe.
On a cold day in 1667, a renegade physician named Jean Denis transfused calf's blood into one of Paris's most notorious madmen. In doing so, Denis angered not only the elite scientists who had hoped to perform the first animal-to-human transfusions themselves, but also a host of powerful conservatives who believed that the doctor was toying with forces of nature that he did not understand. Just days after the experiment, the madman was dead, and Denis was framed for murder.
A riveting account of the first blood transfusion experiments in 17th-century Paris and London,
Blood Work
gives us a vivid glimpse of a particularly fraught period in history—a time of fire and plague, empire building and international distrust, when monsters were believed to inhabit the seas and the boundary between science and superstition was still in flux. Amid this atmosphere of uncertainty, transfusionists like Denis became embroiled in the hottest cultural debates and fiercest political rivalries of their day. As historian Holly Tucker reveals, transfusion's detractors would stop at nothing—not even murdering Denis's patient—to outlaw a practice that might jeopardize human souls, pave the way for monstrous hybrid creatures, or even provoke divine retribution.
Taking us from the highest ranks of society to the lowest, from dissection rooms in palaces to the filth-clogged streets of Paris,
Blood Work
sheds light on an era that wrestled with the same questions about morality and experimentation that haunt medical science to this day.
About the Author
Holly Tucker is the author of City of Light, City of Poison and Blood Work, a finalist for the Los Angeles Times Book Prize and the Times Literary Supplement Book of the Year, and is a professor of French at Vanderbilt University. She lives in Nashville, Tennessee, and Aix-en-Provence, France.
Praise For Blood Work: A Tale of Medicine and Murder in the Scientific Revolution…
Starred Review. Tucker, associate professor in Vanderbilt University's Center for Medicine, Health and Society, does a marvelous job of chronicling the 17th-century controversy pitting science against religion and shows how much of the language used then against the new technique of blood transfusion mirrors language used today against stem cell research and cloning.... Tucker's sleuthing adds drama to an utterly compelling picture of Europe at the moment when modern science was being shaped.

Excellent....Ms. Tucker's chronicle of the world of 17th-century science in London and
Paris is fascinating. A meticulous historian, she paints a compelling
picture of rivalries and politics among the various English and French
academies and their members.

Holly Tucker does an incredible job of bringing the history of blood transfusion to life with harrowing immediacy, spinning a tale of blood, ambition, and murder so gripping that it reads with novelistic intensity. She also reminds us that science itself has a history, that the discipline which we trust to explain our world can also be bound up in the prejudices and assumptions of our own time. Anyone with a taste for historical intrigue will devour Blood Work, just as I did.

— Katherine Howe, New York Times bestselling author of The Physick Book of Deliverance Dane

A fast-paced and fascinating ride through a dark and devious period in science, Blood Work is a witty, insightful, and skillfully written book that sheds light on the mysterious story of blood transfusion.

— Wendy Moore, author of The Knife Man
or
Not Currently Available for Direct Purchase