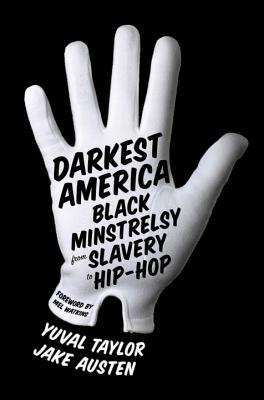 Darkest America (Hardcover)
Black Minstrelsy from Slavery to Hip-Hop
W. W. Norton & Company, 9780393070989, 368pp.
Publication Date: August 27, 2012
* Individual store prices may vary.
Description
An exploration and celebration of a controversial tradition that, contrary to popular opinion, is alive and active after more than 150 years.
Yuval Taylor and Jake Austen investigate the complex history of black minstrelsy, adopted in the mid-nineteenth century by African American performers who played the grinning blackface fool to entertain black and white audiences. We now consider minstrelsy an embarrassing relic, but once blacks and whites alike saw it as a black art form—and embraced it as such. And, as the authors reveal, black minstrelsy remains deeply relevant to popular black entertainment, particularly in the work of contemporary artists like Dave Chappelle, Flavor Flav, Spike Lee, and Lil Wayne.
Darkest America
explores the origins, heyday, and present-day manifestations of this tradition, exploding the myth that it was a form of entertainment that whites foisted on blacks, and shining a sure-to-be controversial light on how these incendiary performances can be not only demeaning but also, paradoxically, liberating.
About the Author
Yuval Taylor is the coauthor of Darkest America: Black Minstrelsy from Slavery to Hip-Hop and Faking It: The Quest for Authenticity in Popular Music. His writing has appeared in the Guardian, the Antioch Review, the Oxford American, and other publications. He lives in Chicago.

Jake Austen is the editor of Roctober magazine, He lives in Chicago, Illinois.
Praise For Darkest America: Black Minstrelsy from Slavery to Hip-Hop…
[A] fascinating and authoritative critical history that traces the roots of minstrelsy back to Africa and the Civil War era... Whatever your perspective on the sensitive issues it raises, Darkest America is a thoughtful and well-written exploration of themes that cut to the heart of our national identity and culture.

— Reed Johnson

While the authors acknowledge the appalling truth about minstrelsy, its carefree trafficking in vicious stereotype, they also successfully suggest that we've averted our eyes too quickly... Darkest America contains delicious twists... [and] carries a truth so heavy it trumps race.
— Preston Lauterbach

In the long, powerful title chapter, [the authors] tell a story absent from the many minstrelsy studies to arrive since Robert Toll's Blacking Up in 1974.... Their polemic is convincing.

— Robert Christgau

Exciting... convincing... entertaining and well-paced... rich in detail.

A comprehensive history and critique of black minstrelsy.... This well-informed work deepens our understanding of a lasting element of American culture.

Starred review. A provocative, compelling exploration of one of the most controversial elements of the black entertainment world... An innovative, marvelous book about comedy, stereotypes and the struggle to steer through the sometimes-fierce internal debates over African-American identity in a society still struggling with its racial past.

[This] illuminating book demonstrates serious regard for the history of black performance and... encourages further exploration. It will interest both general readers and specialists in black entertainment.