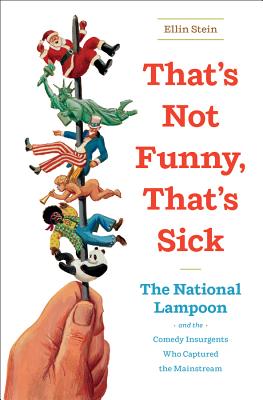 That's Not Funny, That's Sick
The National Lampoon and the Comedy Insurgents Who Captured the Mainstream
Hardcover

* Individual store prices may vary.
Other Editions of This Title:
Digital Audiobook (6/23/2013)
Paperback (12/1/2014)
Compact Disc (6/24/2013)
MP3 CD (6/24/2013)
Compact Disc (6/24/2013)
Description
The untold story behind a revolution in American comedy.
Labor Day, 1969. Two recent college graduates move to New York to edit a new magazine called
The National Lampoon
. Over the next decade, Henry Beard and Doug Kenney, along with a loose amalgamation of fellow satirists including Michael O'Donoghue and P. J. O'Rourke, popularized a smart, caustic, ironic brand of humor that has become the dominant voice of American comedy.
Ranging from sophisticated political satire to broad raunchy jokes, the National Lampoon introduced iconoclasm to the mainstream, selling millions of copies to an audience both large and devoted. Its excursions into live shows, records, and radio helped shape the anarchic earthiness of John Belushi, the suave slapstick of Chevy Chase, and the deadpan wit of Bill Murray, and brought them together with other talents such as Harold Ramis, Christopher Guest, and Gilda Radner. A new generation of humorists emerged from the crucible of the Lampoon to help create Saturday Night Live and the influential film Animal House, among many other notable comedy landmarks.
Journalist Ellin Stein, an observer of the scene since the early 1970s, draws on a wealth of revealing, firsthand interviews with the architects and impresarios of this comedy explosion to offer crucial insight into a cultural transformation that still echoes today. Brimming with insider stories and set against the roiling political and cultural landscape of the 1970s, That's Not Funny, That's Sick goes behind the jokes to witness the fights, the parties, the collaborations—and the competition—among this fraternity of the self-consciously disenchanted. Decades later, their brand of subversive humor that provokes, offends, and often illuminates is as relevant and necessary as ever.
Praise For That's Not Funny, That's Sick: The National Lampoon and the Comedy Insurgents Who Captured the Mainstream…
The National Lampoon burst into being when I was fifteen and changed my life—led me to write satire, become an editor at its Harvard College mother ship, make friends with its founders and editors, and cofound Spy magazine. Ellin Stein chronicles how it changed American culture as well. That's Not Funny, That's Sick is smart, knowing, and deeply reported, the definitive history of one of modern American humor's wellsprings.

— Kurt Andersen, author of True Believers, host of NPR's Studio 360

This idea of a magazine's personality kept coming back to me as I read Ellin Stein's charming and detail-rich new history of the National Lampoon, That's Not Funny, That's Sick, because it is not really a history at all, but a portrait. You can't pick your offspring's personality, and the way a personality develops on its own, involuntarily, through an array of influences of varying importance and salience, echoes the way the Lampoon personality emerges in the pages of Stein's book—through a pastiche of eyewitness recollections, some of them contradictory, many of them fascinating, and all accompanied by the author's breezy running commentary on the cultural storms that swirled in the background.

— The Daily Beast

Stein offer detailed portraits of the people behind the magazine's success in a seminal time when politics and comedy intertwined with incendiary results…. A serious treatment of a funny topic.
— Booklist

Stein leaves no tangent unexplained and no petty grievance unaired as she traces the magazine's evolution and growing fame.
— Publishers Weekly

Stein's description…is dazzling.
— Hollywood Reporter

A worthy addition to the comedy library.
— Michael Precker - Dallas Morning News

This rich history of humor, commerce, and backstage conflict is recounted in lively prose and admirable detail by veteran entertainment writer Ellin Stein. Buttressed by dozens of original interviews, as well as access to older ones and to all the yellowing back issues, That's Not Funny, That's Sick captures neatly the eccentric personalities and fiery times that converged to propel radically offensive material to the forefront of the American consciousness.

— Boston Globe

It's not much of stretch to call this exceedingly thorough and wildly entertaining history of modern American comedy a bible on the subject. Ellin Stein goes deep and dirty on the topic…. A book that will serve as a cultural reference work for the ages. And a blast from the past to read.
— Weekly Standard

If you ever picked up an issue of the National Lampoon, or misspent your youth in the sixties and seventies; if you ever wondered about the origins of Saturday Night Live or, in fact, ever had any interest in the course of American humor from the late sixties onward, this is a book to read…. That's Not Funny takes you on a ride through what was, arguably, the heyday of American humor.

— Ellary Eddy - Realize Magazine

For one thing, the history of the Lampoon is a good story, and Stein may be the first person to devote so much of a book to it who doesn't have her own ax to grind.

— A. V. Club
W. W. Norton & Company, 9780393074093, 464pp.
Publication Date: June 24, 2013
About the Author
Ellin Stein has contributed arts features and criticism to publications including the New York Times, The Times (of London), the Guardian, the London Telegraph, and Variety and is a former reporter for People and InStyle magazines. She currently lives in London, where she teaches screenwriting at Goldsmiths College, University of London.
or
Not Currently Available for Direct Purchase