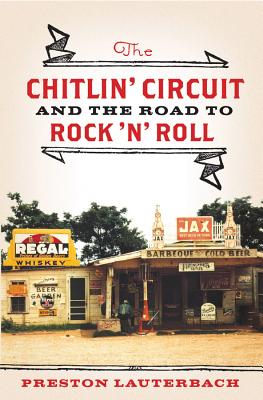 The Chitlin' Circuit (Hardcover)
And the Road to Rock 'n' Roll
W. W. Norton & Company, 9780393076523, 352pp.
Publication Date: July 18, 2011
Other Editions of This Title:
Paperback (7/16/2012)
* Individual store prices may vary.
Description
Chosen by The Wall Street Journal as one of the Top Ten Non-Fiction books of 2011

Chosen by The Boston Globe as one of Top Non-Fiction books of 2011

An NPR Best Music Book of 2011

An Onion AV Club Best Book of 2011



The first history of the network of black juke joints that spawned rock 'n' roll through an unholy alliance between vice and entertainment.
A definitive account of the birth of rock 'n' roll in black America, this book establishes the Chitlin' Circuit as a major force in American musical history. Combining terrific firsthand reporting with deep historical research, Preston Lauterbach uncovers characters like
Chicago Defender
columnist Walter Barnes, who pioneered the circuit in the 1930s, and larger-than-life promoters such as Denver Ferguson, the Indianapolis gambling chieftain who consolidated it in the 1940s. Charging from Memphis to Houston and now-obscure points in between,
The Chitlin' Circuit
brings us into the sweaty back rooms where such stars as James Brown, B. B. King, and Little Richard got their start. With his unforgettable portraits of unsung heroes including King Kolax, Sax Kari, and Clarence "Gatemouth" Brown, Lauterbach writes of a world of clubs and con men that has managed to avoid much examination despite its wealth of brash characters, intriguing plotlines, and vulgar glory, and gives us an excavation of an underground musical America.
About the Author
Preston Lauterbach is the author of Beale Street Dynasty and The Chitlin' Circuit, a Wall Street Journal and Boston Globe book of the year. He is a former visiting scholar at Rhodes College and a Virginia Humanities Fellow. He lives in Virginia.

Praise For The Chitlin' Circuit: And the Road to Rock 'n' Roll…
Mr. Lauterbach uncovers a story as sensational as any day-glo circuit-show poster...The era's hepcat lingo ("ork" for orchestra, "ofay" for "white") and hard-boiled, noir ambience give Mr. Lauterbach a tune he can carry....the book is at heart a well-researched valentine to a lost world of seedy con men, promoters and club owners, the power brokers and hustlers who made the "circuitry spark.
— Eddie Dean

Highly recommended....relishes the criminal origins of the mostly southern black club scene from the early '30s to the late '60s....a coherent, musically savvy history of a performance culture that until now was known only piecemeal.
— Robert Christgau

In this terrific popular history, music journalist and first time author Lauterbach uncovers a secret world that involves not only music but also racketeering and bribery, bootlegging, and various scandals. Lauterbach focuses on how the chitlin' circuit developed from the late 1930s to the early 1940s, with a particular emphasis on how it nurtured early rock 'n' roll. A major achievement and an important contribution to American music history.

Starred Review. Lauterbach has written the definitive history of the musical back roads and back rooms of the southern United States.... a great read, well written and insightful. Highly recommended to anyone interested in the seedy history of American popular music.

Lauterbach's writing is as energetic as a Little Richard song (a performer who started on the chitlin' circuit and crossed over to national fame).... a rocking read and a deserving tribute to the people and places who were the foundations of rock and roll.

Lauterbach's tribute to [the chitlin' circuit] is welcome and overdue.
— Jonathan Yardley

Remarkable… Lauterbach has resurrected the names and careers of men and women—and, yes, some of the toughest of these people were women—who ran bars, booking agencies and clubs, where traveling musicians could come into a black community, play, make money and go to the next town… It's a complex, multi-layered story… The Chitlin' Circuit illuminates a period of American musical history that's long needed it… Go[es] a long way toward illuminating the life black performers lived off-stage and the conditions they endured while they worked.
— Ed Ward, NPR

This sprawling, fascinating history drops readers into a chaotic, dangerous, utterly vanished world. It turns out to be more vibrant than the standard rock 'n' roll mythology. The true dawn of rock lit a landscape in which timeless music got made thanks to every vice and virtue imaginable. Now that's America.
— John Repp

An intensely researched, engaging revelation… This captivating account slips the reader smack into the middle of rock's own hothouse.
— Barry Mazor
Coverage from NPR
or
Not Currently Available for Direct Purchase