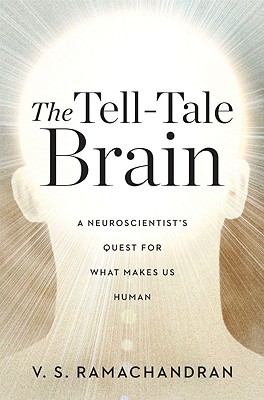 The Tell-Tale Brain
A Neuroscientist's Quest for What Makes Us Human
Hardcover

* Individual store prices may vary.
Other Editions of This Title:
Paperback (1/23/2012)
Compact Disc (1/25/2011)
MP3 CD (1/25/2011)
MP3 CD (1/25/2011)
Compact Disc (1/25/2011)
Paperback (3/1/2011)
Compact Disc (1/25/2011)
Description
Drawing on strange and thought-provoking case studies, an eminent neurologist offers unprecedented insight into the evolution of the uniquely human brain.
V. S. Ramachandran is at the forefront of his field-so much so that Richard Dawkins dubbed him the "Marco Polo of neuroscience." Now, in a major new work, Ramachandran sets his sights on the mystery of human uniqueness. Taking us to the frontiers of neurology, he reveals what baffling and extreme case studies can teach us about normal brain function and how it evolved. Synesthesia becomes a window into the brain mechanisms that make some of us more creative than others. And autism—for which Ramachandran opens a new direction for treatment—gives us a glimpse of the aspect of being human that we understand least: self-awareness. Ramachandran tackles the most exciting and controversial topics in neurology with a storyteller's eye for compelling case studies and a researcher's flair for new approaches to age-old questions. Tracing the strange links between neurology and behavior, this book unveils a wealth of clues into the deepest mysteries of the human brain.
Praise For The Tell-Tale Brain: A Neuroscientist's Quest for What Makes Us Human…
Starred Review. A physician (like Oliver Sacks, a neurologist) as well as a researcher, Ramachandran uses his neurology patients' predicaments to inspire inquiries into how we see and know, the origins of language, the mental basis of civilization, how we conceive of and assess art, and how the self is constructed. Always careful to point out when he is speculating rather than announcing research findings, he is also prompt to emphasize why his speculations, or theories, are not just of the armchair variety but can be put to the test because of what neuroscience has already discovered about the active structures of the human brain.
— Booklist

Ramachandran is the modern wizard of neuroscience. In The Tell-Tale Brain, we see the genius at work, tackling extraordinary cases, many of which mark turning points in neuroscientific knowledge. We see him hypothesizing, experimenting, failing, having epiphanies, experimenting, succeeding. In this utterly entertaining account, we see how these fascinating cases fit together, and how he uses them to explain, from a Darwinian point of view, how our brains, though evolved from  those of other animals, become neurologically distinct and fundamentally human.

— Norman Doidge, M.D., author of The Brain That Changes Itself

Ramachandran has written an astonishing book. His humanity, humor and scientific genius inform every passage. The Tell-Tale Brain is a veritable Voyage of the Beagle through the terrain of brain science and psychology.

— Nicholas Humphrey, author of Seeing Red

A masterpiece. The best of its kind and beautifully crafted. Alluring story telling, building to a penetrating understanding of what it is to be uniquely human. Ramachandran is the foremost pioneer—the Galileo—of neurocognition.
— Allan Snyder, FRS, Director of the Centre for the Mind

No one is better than V. S. Ramachandran at combining minute, careful observation with ingenious experiments and bold, adventurous theorizing. The Tell-Tale Brain is Ramachandran at his best, a profoundly intriguing and compelling guide to the intricacies of the human brain.

— Oliver Sacks, author of The Mind's Eye
W. W. Norton & Company, 9780393077827, 384pp.
Publication Date: January 17, 2011
About the Author
V. S. Ramachandran is the director of the Center for Brain and Cognition and a Distinguished Professor with the Psychology Department and Neurosciences Program at the University of California, San Diego. He lives in Del Mar, California.
Coverage from NPR
or
Not Currently Available for Direct Purchase