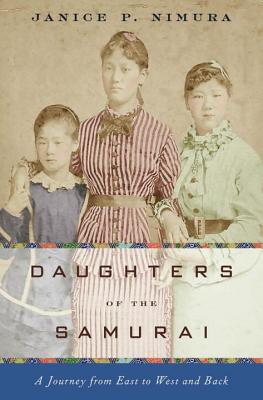 Daughters of the Samurai
A Journey from East to West and Back
Hardcover

* Individual store prices may vary.
Other Editions of This Title:
Paperback (5/17/2016)
MP3 CD (12/29/2015)
Description
A New York Times Notable Book of 2015



"Surprising and richly satisfying" (Megan Marshall); "beautifully crafted…subtle, polished, and poised" (Stacy Schiff).
In 1871, five young girls were sent by the Japanese government to the United States. Their mission: learn Western ways and return to help nurture a new generation of enlightened men to lead Japan.
Raised in traditional samurai households during the turmoil of civil war, three of these unusual ambassadors—Sutematsu Yamakawa, Shige Nagai, and Ume Tsuda—grew up as typical American schoolgirls. Upon their arrival in San Francisco they became celebrities, their travels and traditional clothing exclaimed over by newspapers across the nation. As they learned English and Western customs, their American friends grew to love them for their high spirits and intellectual brilliance.
The passionate relationships they formed reveal an intimate world of cross-cultural fascination and connection. Ten years later, they returned to Japan—a land grown foreign to them—determined to revolutionize women's education.
Based on in-depth archival research in Japan and in the United States, including decades of letters from between the three women and their American host families, Daughters of the Samurai is beautifully, cinematically written, a fascinating lens through which to view an extraordinary historical moment.
Praise For Daughters of the Samurai: A Journey from East to West and Back…
Beautifully written…Begins like a fairy tale…In Nimura's deftly interwoven account, the three girls emerge as contrasting types, like Chekhov's Three Sisters.

— Christopher Benfey - New York Times Book Review

Janice P. Nimura achieves the elusive dream of the historian, producing a work that will engage and satisfy academic and non-specialist audiences alike. The author offers both sets of readers a magnificently and meticulously detailed account of three women whose lives epitomize key features of the changing landscape of late 19th and early 20th century Japan.
— Miriam Kingsberg - Los Angeles Review of Books

This remarkable and beautifully written story—often as riveting as a page-turning novel—is both scholarly and accessible to non-specialists.
— Wingate Packard - Seattle Times

You'd be hard-pressed to find a novelist who is as deft at portraying relationships and inner thoughts…. [Nimura] skillfully bridges Japanese and American cultures, using the seemingly small story of three young people to tell a much larger tale of another time.
— Becky Krystal - Washington Post

Nimura's exhaustively researched historical biography is as immersive as any work of fiction, heartwrenching in its depiction of these cultural orphans turned pioneers.
— Julia Pierpont - Oprah.com

Nimura has done an impressive amount of research to tell her story…. Most of the time Daughters of the Samurai reads like a novel about the meeting of East and West and how it transformed the lives of three extraordinary young women.

— Elizabeth Bennett - Dallas Morning News

You won't welcome intrusions while reading this unprecedented, true story…memorably illuminating.
— Terry Hong - Christian Science Monitor

This is feminism for Japanese women in its infancy, and Janice P. Nimura enhances the reality of the entire experience with this superb historical nonfiction account.
— Historical Novel Society

Daughters of the Samurai reads like a novel that happens to be true: three girls uprooted by fate, bridging the gulf between the elegant rhythms of Old Japan and the exhilarating opportunities of America. Janice P. Nimura paints history in cinematic strokes and brings a forgotten story to vivid, unforgettable life.

— Arthur Golden, author of Memoirs of a Geisha

At a reform-minded moment, Japan dispatched five young girls to be educated in America. Patiently, vividly, Janice P. Nimura reconstructs their Alice in Wonderland adventure. A beautifully crafted narrative, subtle, polished, and poised.
— Stacy Schiff, Pulitzer Prize–winning author of Cleopatra

Surprising and richly satisfying…In Nimura's skillful telling, Sutematsu, Shige, and Ume become ambassadors once again, bringing to life an era from which we can learn important lessons about intercultural understanding, conflict, and compromise, still vital to our survival in the global twenty-first century.
— Megan Marshall, author of The Peabody Sisters and Margaret Fuller: A New American Life, winner of the 2014 Pulitzer Prize in Biography

A riveting story of three remarkable girls, caught in the maelstrom of one of the strangest culture clashes in modern history, Daughters of the Samurai is history writing at its finest and required reading for anyone interested in Japan.

— Ruth Ozeki, author of A Tale for the Time Being

Nimura brings the girls and their late nineteenth-century exploits to life in a narrative that feels like an international variation on Louisa May Alcott's Little Women, so very appealing and delightful….

— Booklist, Starred review

Nimura produces a story of real-life heroines in this masterful biography….
— Publishers Weekly
W. W. Norton & Company, 9780393077995, 336pp.
Publication Date: May 4, 2015
About the Author
Janice P. Nimura is the winner of a 2017 Public Scholar award from the National Endowment for the Humanities and the author of the New York Times bestselling The Doctors Blackwell and Daughters of the Samurai, a New York Times Notable Book. She lives in New York City.
or
Not Currently Available for Direct Purchase