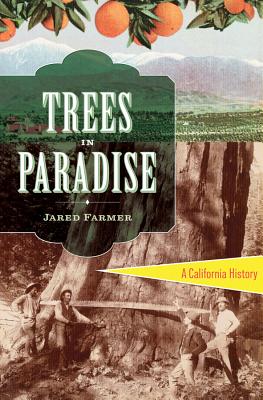 Trees in Paradise
A California History
Hardcover

* Individual store prices may vary.
Other Editions of This Title:
Paperback (3/1/2017)
Description
From roots to canopy, a lush, verdant history of the making of California.
California now has more trees than at any time since the late Pleistocene. This green landscape, however, is not the work of nature. It's the work of history. In the years after the Gold Rush, American settlers remade the California landscape, harnessing nature to their vision of the good life. Horticulturists, boosters, and civic reformers began to "improve" the bare, brown countryside, planting millions of trees to create groves, wooded suburbs, and landscaped cities. They imported the blue-green eucalypts whose tangy fragrance was thought to cure malaria. They built the lucrative "Orange Empire" on the sweet juice and thick skin of the Washington navel, an industrial fruit. They lined their streets with graceful palms to announce that they were not in the Midwest anymore.
To the north the majestic coastal redwoods inspired awe and invited exploitation. A resource in the state, the durable heartwood of these timeless giants became infrastructure, transformed by the saw teeth of American enterprise. By 1900 timber firms owned the entire redwood forest; by 1950 they had clear-cut almost all of the old-growth trees.
In time California's new landscape proved to be no paradise: the eucalypts in the Berkeley hills exploded in fire; the orange groves near Riverside froze on cold nights; Los Angeles's palms harbored rats and dropped heavy fronds on the streets below. Disease, infestation, and development all spelled decline for these nonnative evergreens. In the north, however, a new forest of second-growth redwood took root, nurtured by protective laws and sustainable harvesting. Today there are more California redwoods than there were a century ago.
Rich in character and story, Trees in Paradise is a dazzling narrative that offers an insightful, new perspective on the history of the Golden State and the American West.
Praise For Trees in Paradise: A California History…
The wealth of research makes this an important addition to the California bookshelf. Farmer shows us how devoted, destructive, foolhardy, ambitious, greedy, enriched and showy Californians can be—not just in relation to our trees but also in general.
— Los Angeles Times

Knowledgeable, wise and compelling,…this illuminating, panoramic history…uncovers the subtle and surprising webs connecting the social, cultural and natural worlds of California, and the planet.
— Kirkus Review (starred review)

The book offers a thorough look at the natural aspects of this massive, diverse state, and while extremely detailed, Farmer's engaging prose holds readers attention.
— Publishers Weekly

If you've ever eaten a California orange, seen a palm on a postcard, or marveled at a redwood, this book is for—and about—you. Farmer's work is detailed and nuanced. Trees in Paradise weaves environment and culture into a single narrative.

— Boom: A Journal of California

This brilliant new work of California history is a magnificent achievement—imaginative, learned, and very important.
— William Deverell, director, Huntington–USC Institute on California and the West

A breathtaking, dramatic, and insightful history of California as seen through the rise and fall of the state's most iconic trees. Beautifully written, every page is a revelation, bringing to vivid life the myriad ways in which California's landscape was transformed by human greed and desire, often with disastrous results. You will never think about a tree or the California Dream in the same way.
— Eric Jay Dolin, author of When America First Met China

A small group of savvy historians and ecologists—from William Cronon to Daniel Botkin and others—have in recent decades been alerting us to a neglected reality: that much of 'nature' as we perceive it is human-arranged. Jared Farmer is an important voice within this corps. Peering at California as landscape and dreamscape, he sees the forest for the trees.
— David Quammen, author of Spillover

A sweeping and brilliantly observed history of the promise and pitfalls of the California Dream, as seen through the intertwined lives of trees and people.
— Sir Peter Crane, author of Ginkgo

At once an accessible read and a prodigious work of scholarship, Trees in Paradise will serve as the authoritative work on its subject for decades to come.

— KCET
W. W. Norton & Company, 9780393078022, 592pp.
Publication Date: October 28, 2013
About the Author
Jared Farmer, a Utah native and former Californian, is the author of Trees in Paradise and On Zion's Mount, a landscape history awarded the prestigious Parkman Prize for literary excellence. He teaches history at Stony Brook University and lives in Brooklyn, New York.
or
Not Currently Available for Direct Purchase